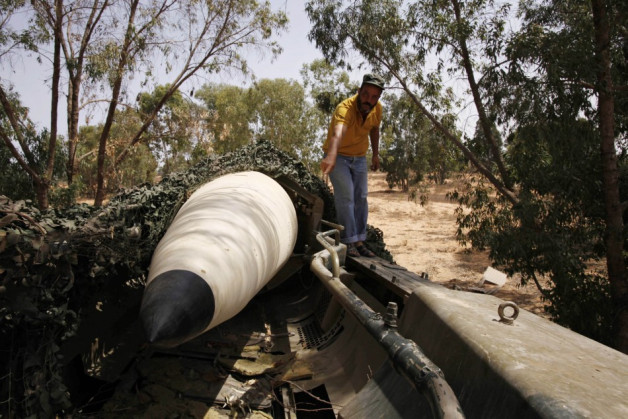 Syrian President Bashar al-Assad has deployed scud-type missiles targeted at Tel Aviv following the Israeli airstrike on a research centre on the outskirts of the Syrian capital Damascus.
Syria, which had earlier threatened a surprise revenge attack, is reported to have positioned at least four scud-type missiles which are ready to fire at Israel.
Each missile with 500-kg heads is primarily aimed at Tel Aviv besides other strategic places, according to the Lebanese daily ad-Diyar.
The decision to deploy the missiles came a day after the Israeli air raid. Syria's ally Russia has urged Damascus to avoid retaliation in order to prevent a full-fledged war in the region, according to the report.
Syria has been frequently accused of using medium-range ballistic rockets in the country against the anti-Assad rebels. Some of the missiles are believed to be capable of carrying Syria's powerful chemical weapons.
Assad has also threatened to retaliate strongly for the Israeli air strike saying the attack was intended to destabilise his country. Assad made his remarks for the first time after the attack, following a meeting with Iran's National Security Council Secretary, Saeed Jalili, according to the official Sana news agency.
Mohammed Dirar Jammu, the chief of political and international relations at the Arab Organisation of Arab expatriates, told the pro-Syrian regime Alakhbarya channel: "The Syrian military response to the Israeli bombing of the research centre, in Damascus, will be earthshaking and staggering to Israel, very soon."
He added: "The Syrian army will direct a strike to Israel. The strike will not be through Hezbollah or Iran, as the era of the Syrian silence towards the Israeli bombing of Syrian sites is over, even if it led to the outbreak of a war in the region."
The Israeli airstrike on Damascus has drawn strong criticism even from Syria's adversary Turkey. Turkish Prime Minister Recep Tayyip Erdogan has accused Israel of waging "state terrorism".
"Those who have been treating Israel like a spoilt child should expect anything from them, at any time. As I say time and again, Israel has a mentality of waging state terrorism. Right now, there is no telling what it might do and where it might do it," said Erdogan.
The escalating situation has also brought Israel's rivals Lebanon and Iran into the scene which have threatened to take on Israel.