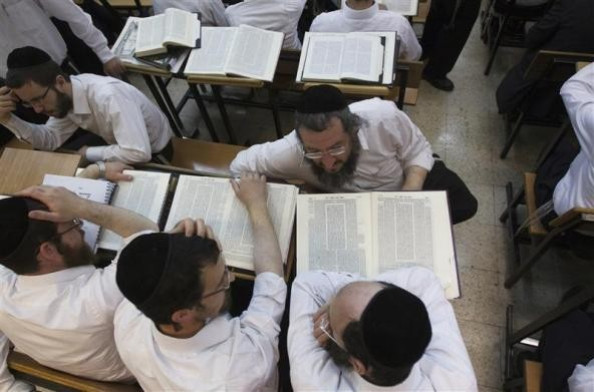 A law that allowed exemption from compulsory military service for Ultra-Orthodox Jewish seminary students in Israel has expired, making students eligible to be called up.
Israel's Supreme Court ruled in February that the Tal Law was unconstitutional and demanded new legislation to be drafted by the end of July.
As the knesset, or parliament, failed to comply by the deadline, conscription applies to every Israeli who reaches the age of 18, unless he or she is specifically exempted by the defence ministry. Up to 54,000 yeshiva or seminary students could now be obliged to enlist.
The knesset is on summer recess and is not set to reconvene until October 15.
With the legal limbo set to continue, defence minister Ehud Barack asked the Israel Defence Force to come up with a practical proposal to prepare for the conscription of the Ultra-Orthodox religious students.
The IDF order "will reflect and take into consideration the ruling of the High Court of Justice, the requirements and values of the IDF, the principle of sharing the burden of national service more equally and the suitability of individuals for service, as is commonly accepted," the military said.
The draft should include provisions for enlistment of Ultra-Orthodox students in technical positions and service in combat units, the Home Front Command, the police and the Prisons Service.
Prime Minister Benjamin Netanyahu said of the emergency measures: "There is no vacuum. "There is no absence of a law. The current law is a mandatory service law that applies to everyone, and the IDF will recruit as it sees fit, in accordance with its needs."
Civil war
Former law-maker and Ultra-Orthodox leader Meir Porush told the Associated Press that any attempt to draft his people would unleash a civil war. The army neither wanted nor needed religious conscripts, he added.
"The Israeli military is not ready, won't be ready and doesn't want to be ready."
Both supporters of Ultra-Orthodox enlistment and members of the Ultra-Orthodox community were doubtful that there would be full enlistment.
"The only thing we care about these days is the completion of the Talmud study cycle," said an official from the United Torah Judaism party.
"Nothing is going to happen. The IDF is not equipped to absorb thousands of haredim. A small procedure will ensue, putting a Band-Aid on the whole situation for three months, and then everything will go back to the way it was."