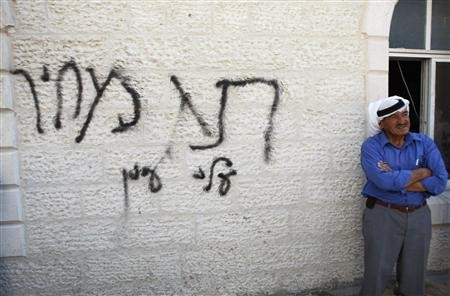 Palestinian officials say a high-profile meeting between the leaders of the rival Fatah and Hamas movements has been called off and postponed indefinitely.
Tuesday's meeting between Palestinian President Mahmoud Abbas and Hamas leader Khaled Meshal had been expected to name the prime minister over an emerging reconciliation government however, Fatah asked Hamas yesterday to postpone a crucial announcement on the make-up of a unity government amid disagreements over its leadership.
The two Palestinian groups were due to meet tomorrow to publicly announce the formation of the new government, almost two months after they struck a surprising pact aimed at ending their years-long bitter feud.
The two groups had signed a unity deal in Cairo last month, giving the impression they were ready to overcome their differences. At that time, they pledged to end a four-year rift that has left the Palestinians with rival governments in the West Bank and Gaza Strip.
However, last week, Hamas rejected Fatah's nomination of Salam Fayyad, a respected economist and the current prime minister of the West Bank-based Palestinian Authority, to serve as the new government's prime minister.
While Fatah dominates the Palestinian Authority, Hamas rules Gaza and the two factions have been divided over how to deal with Israel. Fatah favours peace with Israel, while Hamas has rejected international demands to renounce violence and recognize Israel's right to exist.
While in the recent months, officials from the US and European Union have been stepping up their bids to reignite the peace process, analysts insist Fatah's leader, Mahmoud Abbas, clinched the unity deal with Hamas partly because he grew disappointed with the deadlock of peace talks with Israel.
His move however is not set to improve negotiations with Israel, as the latter considers Hamas a terrorist organisation and has threatened it would not renew negotiations unless Mr Abbas backed out of the unity agreement.
Catherine Ashton, the EU's foreign policy chief, met the Israeli Prime Minister Benjamin Netanyahu yesterday to persuade him to make concessions that would restart talks.
Baroness Ashton is due to brief the EU's foreign ministers in Luxembourg today on her visit to the Middle East, where she also met the Egyptian and Palestinian leaders.
Her trip also comes just days ahead of an expected meeting of the Middle East Quartet - made up of the EU, US, United Nations and Russia - on Friday to hold discussions on how to advance the peace process.
In parallel to Lady Ashton's visit, two top US officials, the acting Middle East envoy, David Hale, and the senior White House adviser, Dennis Ross, are also in the Middle East in an effort to advance Washington's bid to renew the peace process.
On Friday, Mr Abbas met Lady Ashton in the West Bank town of Ramallah and called on the EU, to support the Palestinian bid for statehood recognition from the United Nations in September. As of yet, however the EU has not given much information on how it would act should such a vote take place at the UN.
The EU has actively tried to renew the peace process by attempting to persuade Israel and the Palestinians to meet at a peace conference in Paris and launch negotiations based on Israel's borders before the 1967 war, when it occupied the West Bank and Gaza Strip. However Israel has refused to take the 1967 demarcations has the basis for negotiations, insisting that returning to those borders would leave it unable to defend itself.
Israel has recently also been stepping up its diplomatic campaign against the Palestinian bid for the UN's statehood recognition as last week, Israel's far-right foreign minister Avigdor Lieberman threatened that Israel would renounce all past agreements with the Palestinians if they continue their bid for UN recognition.
While the Palestinians have said they would prefer to return to negotiations with Israel rather than move forward in their unilateral bid for UN recognition of their statehood, they also maintained they refuse to renew talks unless Israel stops construction in Jewish settlements in the West Bank.
However, Israel responded by insisting it will not halt such expansion. Ehud Barak, the Israeli defence minister, said on Friday that there was "no real way to announce an end to construction".
Referring to the rapid growth of Jewish families in the West Bank, he said: "There are half a million people living there. They need a new kindergarten every week."
Mr Barak also said European governments needed to tell the Palestinians to "come to grips with reality" in terms of their demand for a settlement moratorium.
The Israeli-Palestinian conflict has now been going on for more than a hundred years. While a successive list of countries have tried to bring the two parties to work out a peace deal, all have until now failed, mainly due to an unwillingness to compromise by both parts. The saddest thing is that both Israelis authorities and Palestinians leaders seem determined to keep the conflict going as both parties make unrealisable demands. Israelis do need space to be able to live decently, but so do the Palestinians.
Hamas and Fatah need to rapidly overcome their differences and take a realistic stance. Given the urgency of the situation, and the fact that civilians are the one who suffer the most, it seems unreal that the two Palestinian parties are still at a stage where they struggle for power.
Refusing to recognize Israel's right to exist sound as risible as refusing Palestine's right to exist. At present only one thing is sure though: while the international community desperately tries to work out a peace plan, as the country who will manage to end the conflict will instantly gain a higher diplomatic rank, leaders from Israel and Palestine seem happy to still play war.