A young Israeli soldier enlisted in the elite Golani Brigade has been slammed for uploading pictures of himself stoned, half-naked and armed on popular photo-sharing site Instagram.
Following the case of Mor Ostrovski, who uploaded an image of a Palestinian child in the crosshair of a sniper rifle to the same platform, another Israeli Defence Force (IDF) soldier has been named and shamed by Palestinian human rights website Electronic Intifada.
The Instagram account of Osher Maman, 20, includes 549 images which show him mishandling weapons and breaking military laws. Raised in Naples, Florida, Maman hit the headlines in 2006 when as a 14-year-old he brought a BB gun given to him by his parents to school and used it to threaten two girls.
Maman is currently enlisted in Barak, the 12<sup>th Battalion of the elite Golani brigade. In August 2012 he wrote on Facebook: "So one year ago i moved here to join the army... Im not gonna make up some bullshit glorious story to break your heart... I just did it to beat up terrorists and shit... Happy one year anniversary Mmmmmffffffckasss!!!"
The website indicates that Maman was recruited from the US via Garin Tazabar, a program that employs Israelis from overseas into the army. His military service will end in November 2014.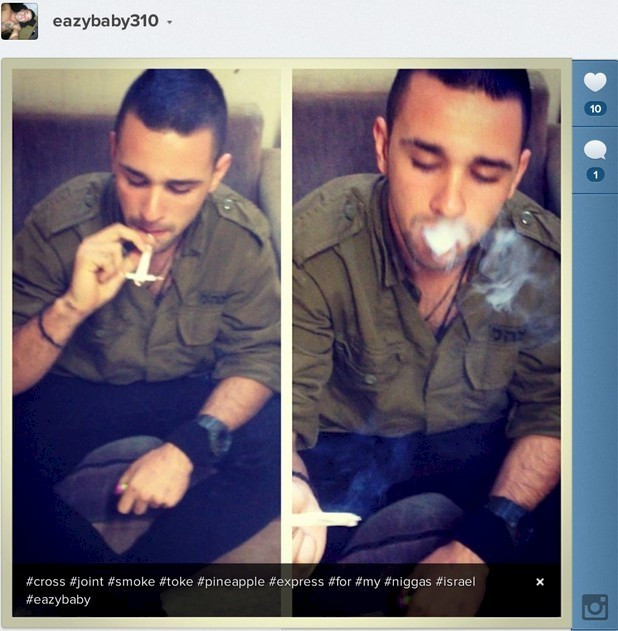 In the pictures, Maman is shown handling, sometimes half-naked, heavy weapons such as guns, mortars and grenades. In one photo, a star of David is formed with guns; other two pictures reveal him with loaded guns and fingers on the trigger, although he does not intend to shoot.
Others show him smoking Marijuana in his uniform, in direct contravention of Israeli army order "33.011 - Use of Drugs - procedures for report, detention, and initiating a military police investigation."
"What does it mean that the Israeli army recruits a soldier, with a dubious history, who is stupid enough to post images of himself committing more criminal offenses?" Electronic Intifada asked.