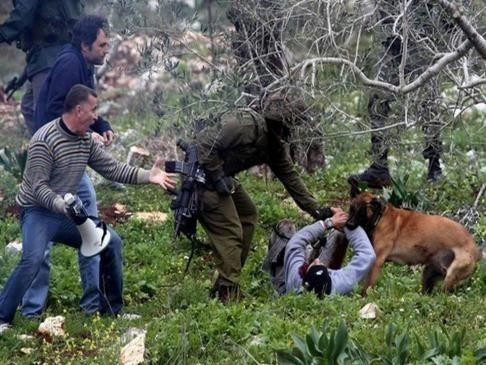 Israeli soldiers have been accused of stealing gold pieces worth thousands of shekels after raiding Palestinian homes in a small West Bank village.
Ata Shatwi, whose 21-year-old son Sabri was detained in the raid, said Israeli Defence Force soldiers stole gold from his house in Kafr Qaddum as they conducted a search.
Shatwi said he was woken up by soldiers in the middle of the night demanding he let them in. He said they handcuffed him and his son, who works as an officer in the Palestinian Authority security forces, as soon as they entered the house.
Shatwi claimed the soldiers released him and told him to wait outside the house with his wife and other children.
"They explained that they wanted to search the house," Shatwi told Haaretz newspaper.
"They had a dog with them. I told the officer there was a large sum of cash and gold in the house and that I wanted to remove it. I'm talking about 30 pieces of gold, worth NIS1,500 (£251) each - in other words NIS45,000 in all - plus NIS 10,000 in cash. He refused."
"Around two hours later I went in and was shocked by the mess," Shatwi said. "They smashed the walls, emptied the wardrobes, smashed the television set, the furniture. I hurried to the bedroom wardrobe, where the money and gold should have been, and discovered the gold had disappeared. The money was still there.
"I asked the officer, 'Where's the gold?' He didn't answer me," Shatwi continued. "He left and came back 15 minutes later with another dog and kept searching. I told him, 'Let me speak with the commander,' but he continued to ignore me."
Shatwi has filed an official complaint with the Civil Administration's Coordination Liaison Office and has contacted human rights groups.
The IDF confirmed an investigation had been opened and said the Military Police CID had taken charge of the affair.
Villagers in Kafr Qaddum have complained that Israeli Defence Forces have conducted a number of raids over several weeks and pillaged homes of their valuables.
More than a dozen houses in the village were raided and 20 villagers aged between 16 and 38 were arrested.
The Popular Struggle Coordination Committee said residents have been involved in standoffs with Israeli settlers who live nearby and have organised demonstrations against what they say has been a "land grab".