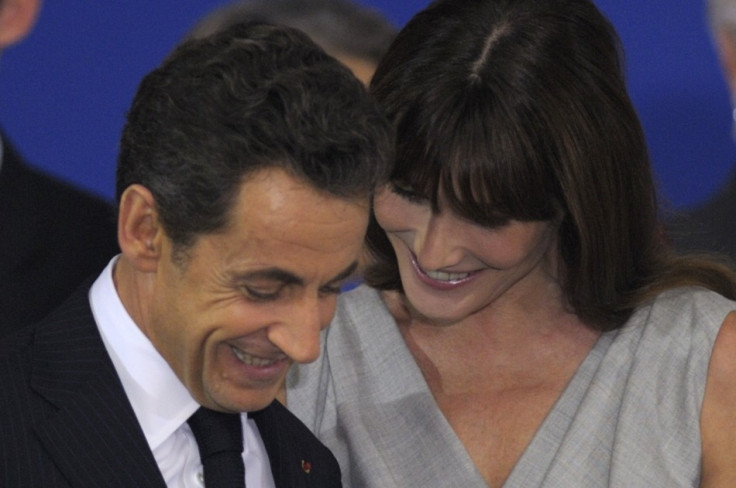 France's first lady Carla Bruni-Sarkozy gave birth to a baby girl at an exclusive Paris clinic Wednesday night, becoming the only serving first lady to have a baby while at the Elysee Palace.
The child was born at the La Muette private clinic in the chic 16th Arrondissement, where the presidential couple had booked six rooms.
According to French reports she was born around 7:30 p.m. Wednesday evening, and Europe 1 radio said Bruni-Sarkozy, 43, was doing well after the birth, but no further details were released.
President Nicolas Sarkozy reportedly only spent half an hour with his wife following the birth before going to Germany, to attend a leaving ceremony for Jean-Claude Trichet, the departing head of the European Central Bank.
In Frankfurt, the president was also expected to hold informal talks with Chancellor Angela Merkel about the euro crisis.
Carla Bruni-Sarkozy already has a 10-year-old son from an earlier relationship while Sarkozy, 57, has three boys from two previous marriages.
The birth was also welcomed by residents of the 16th Arrondissement, who complained after police sealed off the roads around the clinic at the beginning of the month.
Bruni-Sarkozy will also be pleased to finally given birth, after she recently confessed she was bored by pregnancy and anxious to "get it over with" so she could have a drink and a cigarette.
The birth has been anticipated by the French public, with false alerts including Twitter reports that the baby had already been born, and was a boy named Vadim.
The child comes just seven monthw from a presidential vote in which Sarkozy is expected to seek re-election, facing Socialist candidate Francois Hollande.
Recent opinion polls showed Sarkozy's popularity in sharp decline but observers have said the birth of the child might help the his image.
Italian-born Bruni-Sarkozy has however insisted she will not use her baby for political purposes and intends to keep her out of the spotlight.
"You don't have a child for the gallery," she told French TV network TF1 earlier this month. "I will do everything to protect this child ... I will not show photos of this child, I will never expose this child."
With the couple set to ask for maximum levels of privacy, paparazzi are now set to compete for the first picture of the president's daughter.