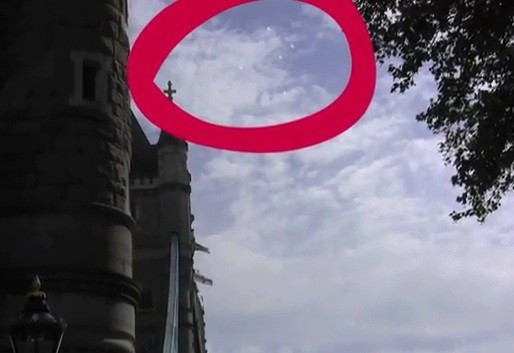 It seems UFOs are a hot topic at the moment, with sightings coming in from the U.S. and UK this week. Surely this is not merely a result of the silly season of news caused by the House of Commons' recess. Perhaps we are finally making contact with another world. Perhaps we are being invaded. Perhaps, perhaps, perhaps.
Here, we offer a brief roundup of some of the top UFO stories.
Between early and mid-June a video appeared on YouTube of a UFO sighting over the BBC building in West London.
The person who circulated the footage addressed suggestions that the video was a hoax. He said: "If you believe it's easy photoshopped why don't you make a video & show us all."
The video has since been removed by the user.
On June 19, sonar scans of the seabed between Sweden and Finland showed up a grainy, circular shape that some are claiming is the remains of a UFO.
Lead researcher Peter Lindberg speculated that if the 60-ft. diameter shape isn't a UFO then it could be the new Stonehenge. He said: "You see a lot of weird stuff in this job, but during my 18 years as a professional I have never seen anything like this. The shape is completely round."
Then, on August 2, it was reported that a lifeboat crew from New Brighton received a call about a UFO that had fallen into the sea.
Cliff Downing, lifeboat operations manager, told Liverpool Daily Post: "Our volunteer crew were excited at the possibility of being the first RNLI unit to make contact with extra-terrestrial life and launched the boat in record time."
He added: "Close examination revealed that this was not something from the outer solar system, but a series of balloons tied together, presumably from a wedding or birthday celebration.
"We recovered the item because it would have been a hazard had it wrapped around a ship propeller."
On Aug. 3, Mike Sewell, a Radio 5 Live Sports reporter, said that he had seen a disc shaped craft above a field in Hertfordshire the previous night.
Sewell, who was "freaked out" by the incident, remarked to one of his colleagues on air: "You know me Rachel George, I'm of sound mind."
George responded: "The fact that you were driving toward Stansted airport and this was an aircraft looking thing?"
Sewell responded: "It was not the shape of a normal aeroplane."
Timothy Good, an unidentified flying objects expert, told BBC that "we now have the technology to go to the stars."
When asked where this technology came from, Good said: "Alien craft. The study of alien craft that had been recovered. And by liaising with actual aliens who have helped us develop this technology."
Across the pond, in Binghampton, New York, a sighting was reported on Aug. 4 to have been as "large as a football stadium."
The UFO was said to have hovered for a few minutes before shooting upward in the sky.
New York has a current UFO ALERT rating of 4, with a higher than average number of UFO sightings nationally. However, New York had 14 reports in July, compared to 54 reports in California, the highest reporting state in the U.S. for July.
California also recently held a UFO symposium, drawing 400 people who discussed everything from crop circles to conspiracy theories.
Perhaps, someone at this symposium could have linked the recent sightings together. Perhaps, a 60-ft. UFO mothership that flew over the BBC got into some trouble and crash landed between Sweden and Finland. Some of the crew managed to escape in a smaller pod, releasing balloons over New Brighton to try and alert help. The smaller UFO then traced its path back to London before setting a course for New York, where it would rejoin a new "large as a football stadium" mothership. Perhaps that is what happened. Perhaps, perhaps, perhaps.
Seen a UFO recently? Or just seen a UFO story that we've missed? E-mail j.rennison@ibtimes.co.uk with your story.
Follow Joe Rennison on Twitter here.