Italian MP Gianluca Buonanno Blacks up for Anti-Immigration Rant
Racist Northern League member suggests Italians should 'make themselves darker' to gain benefits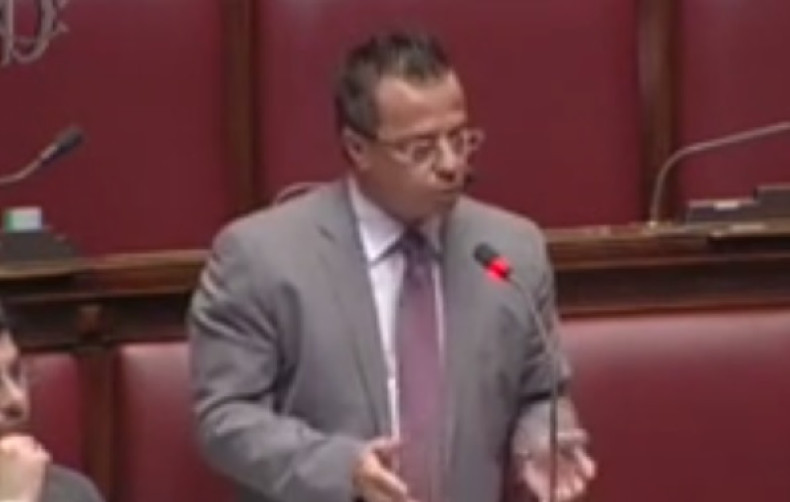 A rightwing Italian MP "blacked up" for a parliamentary debate on welfare to highlight what he claimed was a benefits system geared towards immigrants.
Gianluca Buonanno, a member of the Northern League, smeared his face with make-up and asked if Italians should "make themselves darker" in order to receive more money from the government.
Buonanna had previously accused Italy's minister for integration, Cecile Kyenge, the country's first black member of Cabinet, of using her position to "favour negritude" in her department's treatment of migrants and asylum seekers.
Speaking in the lower chamber of parliament with a face covered in greasepaint, Buonanna told the cabinet: "At the end of the day, maybe in this country in order to achieve anything we need to be a bit darker.
"I say we can all put make-up on and make ourselves a bit darker, and then we can all go around painted black and say we want the same help that non-EU citizens get.
"I think that Italians, on top of going to police stations and declaring themselves political refugees, have to darken themselves, and go around saying that I need help too, and we will see whether Italy is as good to Italians as it is to foreigners.
"This is inverted racism. No more benevolence - let's give concrete help to those who need it first and foremost."
Nichi Vendola, head of the left-wing SEL party, tweeted: "Can someone tell the racists that we're in the third millennium and are a civilised country, despite them.
"The racists think they're in Alabama or Mississippi of a half-century ago or in South Africa during apartheid."
Northern League politicians have made a series of xenophobic tirades and has aimed several racial slurs at Kyenge.
Last year, the Northern League leader, Roberto Calderoli, compared her to an orangutan during a political rally in the northern town of Treviglio. He was later arrested and charged with defamation aggravated by racial discrimination.