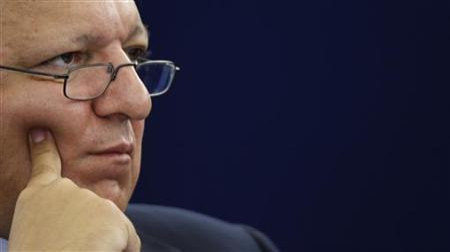 IMF is monitoring Italy over its long delayed plan of reforms of pensions, labour markets and privatisation, European Commission President Josè Manuel Barroso said on Friday. Under pressure from financial markets and European peers, Prime Minister Silvio Berlusconi agreed to allow International Monetary Fund to oversight the country's progress to overhaul its debt crisis.
European diplomats said that Berlusconi recognised the gravity of the situation and was engaged in talks. "We need to make sure there is credibility with Italy's targets - that it is going to meet them," said one EU source. "We decided to have the IMF involved on the monitoring, using their own methodology, and the Italians say they can live with that."
Italian officers previously denied any agreement on IMF monitoring and explained that the whole Euro zone is under close surveillance. However, they confirmed that Rome was willing to request IMF advice on implementing the commitments it gave EU leaders on specific reforms on Oct. 27.
Talking at a news conference at the G20 summit in France, Barroso said that "Italy has decided on its own, on its own initiative, to ask the IMF to monitor implementation of Italy's commitments".
"I see this as evidence of how important Italy's reform process is for the country and for the euro zone as a whole," Barroso added.
He also said the European Union's executive Commission would also assess the situation in Italy "Indeed the European Commission will go ahead with detailed assessment and monitoring of the Italian situation. Next week we will already go to Italy to make this kind of assessment."
Italian President Giorgio Napolitano said that the country is facing an "unprecedented crisis". According to some sources, Italy was offered a €44bn 'precautionary' credit line by IMF but the offer was turned down by Silvio Berlusconi. Its new stimulus package will likely be attached to a budget bill and put to a confidence vote in the Italian Senate on November 15.
Some predicts Berlusconi's government could fail to obtain a majority on that date. Gary Gibbon, news' political editor for Channel 4 says on his blog that the German political establishment sees Berlusconi "as a catastrophic menace" and "the biggest single obstacle to world economic stability".