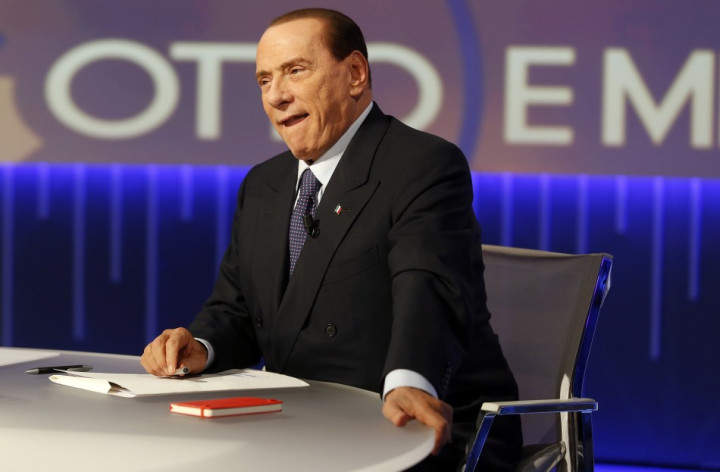 Italy's former prime minister, Silvio Berlusconi, has described Milan judges as "feminist and communist" after they imposed a €200,000-a-day (£162,000-a-day) divorce settlement against him.
The settlement was handed down by a three-judge panel three years after Berlusconi's estranged wife Veronica Lario filed for divorce.
"These are three women judges, feminists and communists, OK? These are the Milan judges who have persecuted me since 1994 [when he entered politics]," Berlusconi told La 7 TV station's journalist Lilli Gruber, during her show, Otto e 1/2.
Berlusconi said he would appeal but was hopeful the issue could be resolved directly with Lario with whom he said he had an "utterly respectful relationship".
Lario filed for divorce in 2009 as rumours of Berlusconi's bunga-bunga party nights at his Arcore villa in Milan were starting to grow louder.
Berlusconi and Lario met in 1980, when she was working as a theatre actress. They married 10 years later. It was Berlusconi's second marriage and the couple has three children - Barbara, 28, Eleonora, 26, and Luigi, 24.
Other Milan Trials
Berlusconi also hit out at judges in Milan over two other trials that see him accused of tax fraud, underage prostitution and exaction (bribery).
Berlusconi was sentenced to four years in jail for tax fraud in October over fiscal irregularities made by his mass media company, Mediaset.
He said there was "no chance" the sentence would be upheld by the appeal court and therefore he "doesn't lose time" considering whether to quit politics because of it.
"The sentence has no factual basis," Berlusconi said. "It has been made by the same judges that sentenced me in 1994, when I won the elections, and then acquitted me for not having committed the crime. If you look into my story you'll see who the oppressor and oppressed are."
Berlusconi said that he also expected to be acquitted in the bunga-bunga trial because "prosecutors fabricated all the accusations".