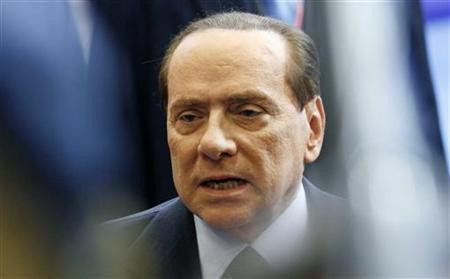 Reports that Italy's Prime Minister Silvio Berlusconi had agreed to step down as part of a 'secret deal' emerged Wednesday but were denied by The Northern League, the coalition's main ally and the PM's office.
The deal would lead to the stepping down of the leader at the end of December or the beginning of January, according to La Repubblica, which also stated that new polls would follow in 2012.
"Don't make a fool of me in Brussels, and I promise that we'll go to elections in March," Berlusconi told the Northern League leader, according to La Repubblica.
The deal was allegedly sealed during talks between Berlusconi and Northern League leader Umberto Bossi which centred on new economic reforms demanded by the EU as Rome seeks actions to tackle its mounting public debt, currently standing at 1.8 trillion euros.
However in a new twist, The Northern League told the BBC the rumours were an attempt to undermine the Prime Minister.
Despite being re-elected in 2008, the Berlusconi's government has been crippled by a series of crisis ranging from sex scandals, corruption allegations and fragmentation of the coalition.
In recent months, the 74-year old has faced repeated demands for him to step down, maintaining he will continue governing Italy until his term ends in 2013.
Whilst dealing with a political domestic crisis, the government has also been under pressure from its EU partners to prove it can come up with efficient solutions to tackle its debt crisis and help support the country's economy.
In recent days, Berlusconi has worked on writing a "letter of intent" to the EU, detailing Italy's debt reduction strategy and new reforms aiming at boosting the country's economy, after it was revealed its public debt now amounts to nearly 120 per cent of GDP, set to be presented Wednesday.
The rumour of Berlusconi preparing to step down also came after Bossi said Tuesday that the coalition had agreed on a set of new reforms but that the EU will now have to approve the plan.
"In the end we have found a way. Now we will see what the EU says," he said.
Tensions between Berlusconi French President Nicholas Sarkozy and German Chancellor Angela Merkel also mounted over the week end, after Italy was told it was crucial for its public debt "to be reduced in a credible manner in the coming years".
Italy is the third largest economy in the Eurozone but it will need to issue an estimated 600bn euro in bonds over the next three years in order to refinance its debt.
EU partners have warned they would only support Italy's bond if the country agrees to a set of key economic reforms which include raising the retirement age, a move set to anger the Italian public.