Stoke goalkeeper Jack Butland has said he is not looking to leave the club amid reports Arsenal and Liverpool are interested in his services.
Butland, 24, took to Twitter to quash rumours he had made a transfer request and said he remained committed to Stoke's battle to stave off relegation from the Premier League.
The Potters have only won one of their last nine matches in all competitions and are in 19th place in the Premier League standings.
"Before this spreads any further, I haven't told the club I want to leave, I'm focused on doing everything I can to keep the club in this division!" Butland wrote. "Stop believing everything you read!"
Both Arsenal and Livepool have been linked with a £40m ($56m) summer move for Butland, who is in contention to be England's first-choice stopper at the World Cup in Russia.
The former Birmingham City goalkeeper has made 24 league starts for Stoke this season.
The Potters have picked five points in the four games since Paul Lambert took over as manager from Mark Hughes, and Butland praised the work done by the Scot during his short time at the club.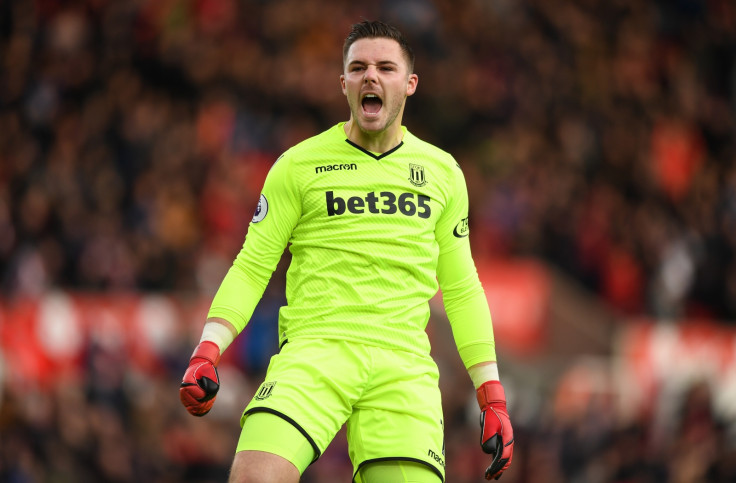 "I'm really pleased with the improvement in performances recently and we are finally feeling as though we are in games and could be picking up points," the goalkeeper told Stoke's official website.
"The fans can see that – the lads are flying into challenges and running through brick walls for each other and the club."
Lambert said last month that he would do everything in his power to make sure Butland stays at Stoke for the foreseeable future.
"As long as I'm here I'll do everything I can to keep him," he was quoted as saying by the Independent.
"He is one of the best, I don't care what anybody says. That boy is one of the best goalkeepers I've seen."