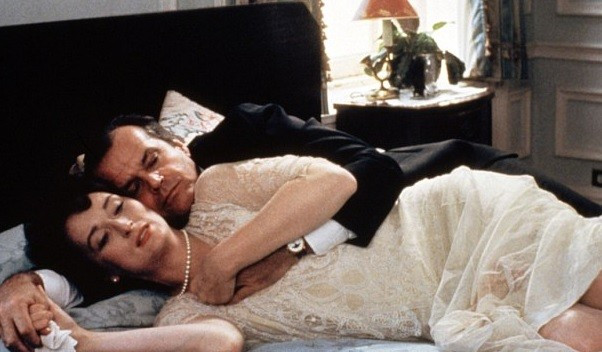 Jack Nicholson enjoyed a brief fling with Meryl Streep on the set of 1987 film Ironweed, a biography has claimed.
According to writer Mark Eliot, the Oscar-winning actors had sex in a trailer despite Nicholson still dating long-time lover Anjelica Huston. He was allegedly also sleeping with Veronica Cartwright at the time of the Streep tryst.
In Nicholson, Eliot, a New York Times writer, claims: "Once filming began on Ironweed, everyone on set and those who heard about it, were talking not about the film's script, or direction, or scenic design, but about Jack and Meryl. Often during shooting, his Winnebago seemed to be balanced on four overworked Slinkys [toy springs].
"One unnamed source told Mitchell Fink, of the Los Angeles Herald Examiner, 'whatever is going on inside that Winnebago it's starting to get out of hand to the point where it's embarrassing a lot of people on the set'."
Before playing a homeless couple in Ironweed, Nicolson and Streep played feuding husband and wife in the 1986 movie Heartburn.
Eliot writes: "Jack met Streep the first day he was on set. [Mike] Nichols [director] had wanted to keep some tension between them before the cameras rolled. According to Streep, 'it was like meeting Mick Jagger or Bob Dylan. He was a big deal'.
"To break that tension, just before their first scene together, Nicholson knocked on Streep's trailer door and asked if he could use her toilet. She said sure. End of tension."
Streep married sculptor Don Gummer, to whom she is still married, in 1978 and Nicolson has been in relationships with a number of actresses including Susan Anspach, Winnie Hollman and Rebecca Broussard.
The book also details the One Flew Over the Cuckoo's Nest's actor's battle with drug use early in his career. His drugs of choice allegedly included LSD, cocaine and marijuana.
Eliot describes Nicholson's experiences with the drugs as 'life-changing'. The Hollywood icon, who has reportedly retired from the big screen because of a fading memory, allegedly saw the face of God after taking LSD for the first time.
"He also had castration fantasies, homoerotic fear fantasies, and revelations about not being wanted as an infant."