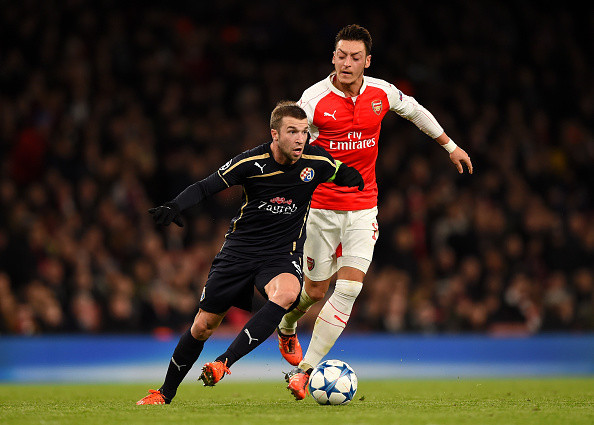 Jack Wilshere believes that the signing of Mesut Ozil from Real Madrid was a turning point for Arsenal as the German international has given the Gunners "a massive lift" since his arrival to the Emirates Stadium in the summer of 2013.
The England international though revealed his surprise when heard the news about Arsene Wenger's interest in his signature on deadline day that summer as he "almost didn't believe it."
Following some campaigns of austerity due to the move to the Emirates Stadium, the French boss targeted the arrival of a marquee signing during the summer of 2013 to end a nine-year trophy drought. The Gunners were then heavily linked with a move for then Liverpool star Luis Suarez but, after failing to secure the services of the Uruguay international, Wenger turned his attention to Ozil.
On deadline day Wenger didn't hesitate to break the bank to make him the club record signing after agreeing to pay around £42.5m ($63m) to Real Madrid to lure him to the Emirates Stadium. Ozil had his up and downs during his debut season in English football but made his contribution to help the Gunners to end their title drought with the FA Cup. The German international also played his part in winning the cup last campaign, whilst in the current season he is proving to be one of the most consistent performer of Arsenal and of the Premier League – having provided 13 assists in just 15 appearances.
Wilshere has paid tribute to his team-mate while claiming that his signing "was massive" for the club.
"I think we knew what sort of player Mesut was," Wilshere told Arsenal Player. "His history as a player and the clubs he has played for... to bring him in to play with us was massive.
"I remember watching [the TV on] transfer deadline day and seeing that Arsenal were interested in Mesut Ozil, and you almost didn't believe it. When he arrived the players were buzzing and the fans were buzzing and I think that gave us all a massive lift.
"I watched him for a few years, he was another player who started off young and went to a big club like Real Madrid. I remember watching him a few times and thinking that this player really understands football. You can tell he really understands football and to play alongside him is something special."
The midfielder, who is yet to play this term due to an injury, has also pointed out the importance of clinching the FA Cup in 2014 in order to give confidence to the squad to fight for more titles.
"I think it was important that we won our first trophy after so long," he said. "We had our chance a few years back in the League Cup and we blew it.
"That was really the story of that season and we struggled for a few seasons and finally found our feet again and looked like we had a chance of winning the league. At the end of the day, when you look back at your career you are judged on the trophies you have as player and as a manager so it was important to get our first one."