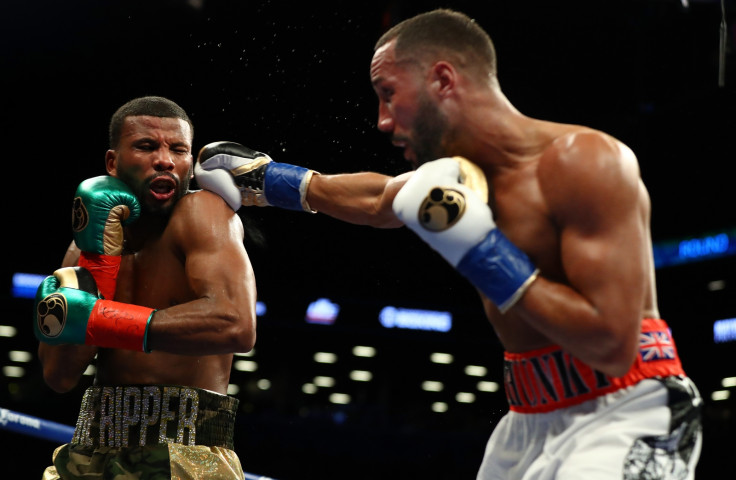 James DeGale and Badou Jack retained their world titles after fighting to a thrilling draw in their super middleweight clash in New York.
IBF champion DeGale looked to be heading for victory but was knocked down by Jack in the final round. While one judge carded the fight 114-112 in the Londoner's favour, scores of 113-113 from the other two meant no titles changed hands.
While a rematch would seem the next logical move, Jack's promoter Floyd Mayweather Jnr insisted before the fight the Swede would be stepping up to fight at light heavyweight, regardless of the result.
Just three minutes into the fight, DeGale managed to break through the WBC champion's defenses, sending him to the canvas after a clean straight left. Jack survived a flurry of swift combinations in the third and fourth rounds and struck back in the sixth, hurting DeGale with a shuddering body shot that forced the Briton into the ropes.
Going toe-to-toe with the Swede in the eighth, DeGale took more damage with a vicious upper cut dislodging his mouth guard. By the end of the night, his two front teeth were gone.
Having been forced onto the back foot, DeGale rallied in the closing rounds, balancing the fight again with a set of clean combinations before he was sent tumbling after Jack landed another uppercut.
While DeGale sprung back to his feet immediately, the damage had been done with the judges convinced the two could not be separated.
While the thousands in attendance at the Barclays Centre in Brooklyn will have felt they had got their money's worth, Jack's promoter Mayweather was not impressed with the result.
"I'm the promoter, this is my fighter and this is the second time this has happened," Mayweather said. "Two times in a row. It's all about being fair. At the end of the day, I don't know what the judges be looking at. When I fought Oscar De La Hoya [in 2007], one of the judges had him up by unanimous decision. When I fought Canelo [Alvarez in 2013], one of the judges had him winning. This is bad for boxing when it's all said and done."