Former Liverpool star Jan Molby claims Reds captain Jordan Henderson will "struggle to accept" the fact he was dropped in his side's 7-0 win over Spartak Moscow. He also explained the manner in which Klopp's side won the clash will leave Henderson "extremely disappointed".
The Merseyside club were leading the table with nine points after five matches, one point ahead of second place Sevilla and three points ahead of third place Spartak. Liverpool wanted to avoid a defeat to qualify, and a win against the Russian club could have helped them seal a top spot.
Jurgen Klopp decided to drop Henderson on the bench for the crucial clash at Anfield. The England international remained an unused substitute as the Reds registered a crushing 7-0 win over Spartak.
Molby claims the return of Philippe Coutinho has made it difficult for the former Borussia Dortmund manager to pick his two first choice midfielders at Liverpool.
"Jurgen Klopp tried to deflate any controversy surrounding Jordan Henderson's absence from such a big game by confirming he would 100% start in the Merseyside derby on Sunday," Molby told the Liverpool Echo.
"But it's difficult to say who are the manager's preferred two among the midfield players we've got since Coutinho's been back in the side and taking the third spot.
"However Jurgen Klopp wraps it up to him it would have been almost impossible for Jordan Henderson to make any sense of it or to accept it. That's how you are as a footballer.
"Jordan Henderson will have been extremely disappointed though obviously playing in the next game will make up for some of that. It's also the way the whole game panned out, winning 7-0 and playing the way they did. If you're not playing you want the team to win and play average, that's how it is.
"Jordan will look back and think it's the one game he couldn't afford to miss because of the way they played without him."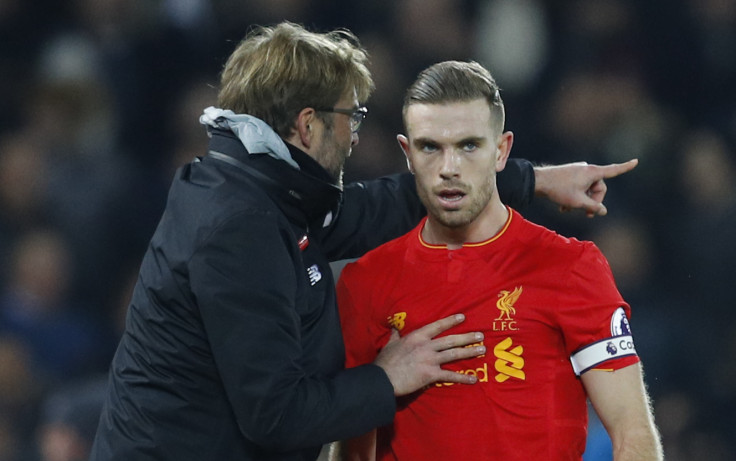 Liverpool finished their group on top of the table with 12 points after six games, while Sevilla finished second. The Anfield outfit will not be able to face another Premier League club, meaning they will not face Chelsea in the knockout stages of the Champions League.
Molby admitted that he would face a draw against European champions Real Madrid or Juventus in the round of 16 if the second leg is played at Anfield.
"Of the six teams Liverpool can face in the last 16, I'd take five of them right now. I'd steer clear of Bayern Munich but I'd take Real Madrid or Juventus knowing that the second leg is at Anfield," he stressed.
"Juventus for some reason haven't quite found their form, at Real Madrid I think big changes are on their way and we know what that means. Anfield almost steals from you. We saw that against Dortmund a few years ago in a game that was done and dusted, it just took that game away from them.
"I've been impressed by Shakhtar, they play with a really strong defensive unit and they've got some really quality players but of course they're not at Liverpool's level."