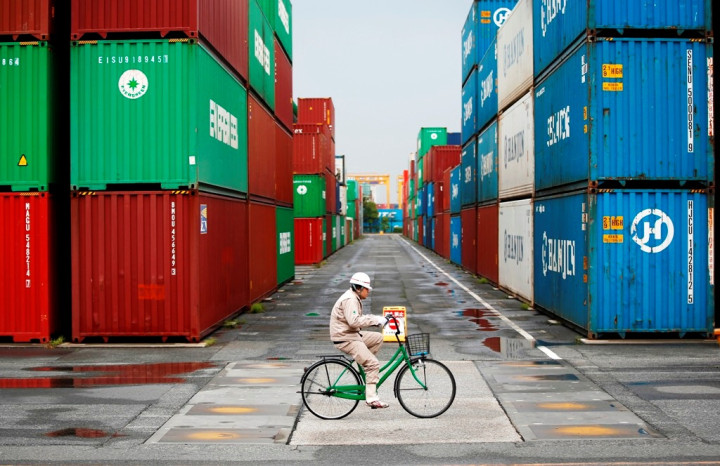 Japan's exports and imports declined in August, suggesting the world's third largest economy is struggling to pick up momentum after a deep slump in the April-June quarter.
Exports fell 1.3% year-on-year in August, but beat expectations, as shipments to the US contracted. Economists had forecast a 2.6% annual decline.
The US is Japan's second-largest trading partner after China and shipments to America were down 4.4% year-on-year, from a 2.1% increase in July.
The August reading followed a 3.9% annual gain in July, after having fallen in June and May.
Meanwhile, imports were down 1.5% in August, resulting in a trade deficit of 948.5bn yen ($8.7bn, £5.3bn, €6.8bn). Japan's trade balance has been in deficit for 26 months in a row.
The exports data has shattered hopes that external demand can compensate for a slump in consumer spending back home, triggered by the April sales tax hike.
The trade figures will mount pressure on lawmakers to do more to boost economic growth.
Economists' Take
Hiroshi Miyazaki, senior economist at Mitsubishi UFJ Morgan Stanley Securities told Reuters: "The US economy is recovering, so things should not be this bad.
"The data do reflect a shift in production overseas. I don't think monetary policy easing is needed, but there are doubts about how the overall economy will perform in the third quarter."
Capital Economics said in a note to clients: "The trade deficit narrowed in August, and should shrink further in [the] coming months as external demand has improved and oil prices have fallen."
The Japanese economy shrank 7.1% on an annual basis in the second quarter, the biggest contraction since the 2009 global financial crisis, following the 1 April sales tax hike, to 8% from 5%.