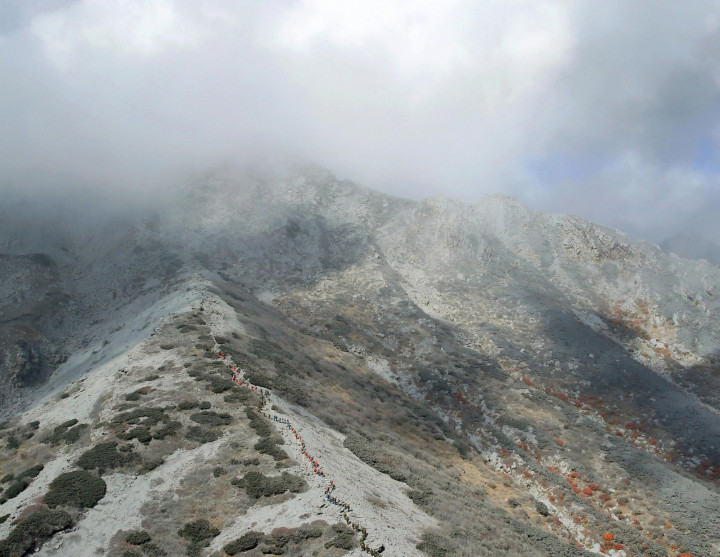 Even as Japan's meteorological agency sounded warnings of increased volcanic activity near its Sendai nuclear plant Friday, a Kobe University study warns that Japan could be nearly destroyed by a massive volcanic eruption over the next century.
While the odds of such a devastating volcano putting at risk its 127 million population are very low, it cannot be ruled out for a nation that is home to nearly 100 active volcanoes.
The study recounted how similar low estimates had preceded a 7.2-magnitude quake that destroyed the Japanese port city of Kobe in 1995, killing 6,400 people and injuring nearly 4,400 others.
A disaster on Kyushu, which has been struck by seven massive eruptions over the past 120,000 years, would see seven million people buried by flowing lava and molten rock in just two hours, it said.
Volcanic ash from the devastating eruption could be carried by westerly winds toward the main island of Honshu, making almost all of the country "unliveable."
It would be "hopeless" trying to save about 120 million living in major cities and towns across Honshu, the study said.
Analysing the scale and frequency of volcanic eruptions over the past 120,000 years the team calculated that the chances of such a devastating volcano in the next hundred years was 1%, reports AFP.
"It is not an overstatement to say that a colossal volcanic eruption would leave Japan extinct as a country," Kobe University earth sciences professor Yoshiyuki Tatsumi and associate professor Keiko Suzuki said.
Recently, Japan's Mount Ontake erupted killing 57 people and leaving many missing in the country's deadliest volcanic eruption in almost 90 years.
The latest rumblings are from Ioyama which lies in the volcanically active Kirishima mountain range and is roughly 64 km from the Sendai nuclear plant run by Kyushu Electric Power Co, reports Reuters.
The study called for new technology to understand the magma reservoirs beneath the earth's crust.
Japan lies on the 'Ring of Fire' - a horseshoe-shaped band of fault lines and volcanoes around the edges of the Pacific Ocean.