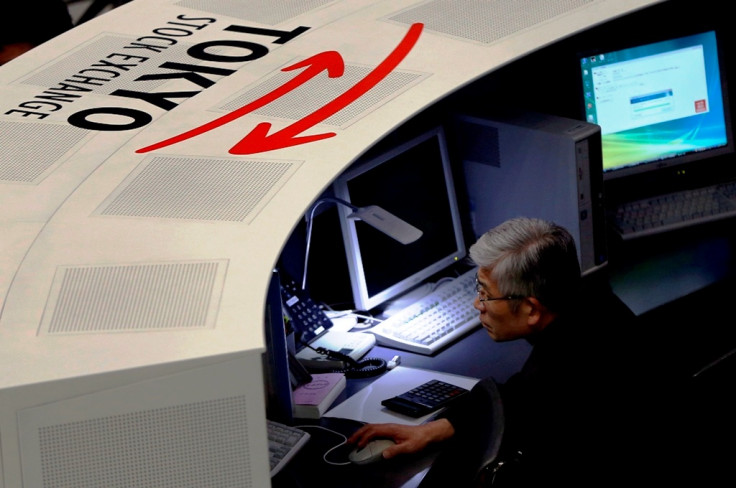 Japan's Nikkei share average ended at its highest level in over seven-and-a-half years on 12 February, as the weak yen boosted Japanese exporter's stocks and after Tokyo put out upbeat economic data.
The benchmark Nikkei 225 finished 327.04 points, or 1.85%, higher at 17,979.72 on Thursday, the highest closing level since July 2007, as the market reopened from a holiday.
The yen traded at 120.22 to the US dollar after losing 1.5% over the past two days.
Shares in department-store operator Marui Group finished 16.16% higher at 1,337 yen, leading gains on the Nikkei 225. The firm plans to spend as much as 15bn yen ($125m, £82m, €110m) on a share repurchase programme.
Industrial robots maker Fanuc finished 6.22% higher on Thursday, after the Nikkei business daily reported that hedge fund Third Point had picked up a stake in the firm. The scrip has added 10.53% so far this year.
Struggling electronics major Sony finished 5.14% higher, and the stock has soared some 30.7% this year.
Toyota Motor, the world's biggest automaker, ended 1.8% higher on Thursday and has gained some 3.9% this year.
The broader Topix share average finished 21.67 points, or 1.52%, higher at 1,449.39 points, with 2.77 billion shares changing hands, the biggest number since 12 December, 2014.
Turnover stood at 3.160tn yen ($26.30bn), the highest since the same date.
Investor sentiment was also boosted by a government report that showed that Japanese machine orders shot up 11.4% in December 2014, from a year ago, beating estimates.
Nicholas Smith, a strategist at CLSA in Tokyo, told Bloomberg: "You ain't seen nothing yet. Japan's the area of the world that actually has the strongest earnings growth. That's before you start to factor in the benefits of all these share buybacks going on at the moment."
Capital Economics said in a note to clients: "While machinery orders soared in December, they were broadly flat over the last quarter, so business investment should have been little changed. Nonetheless, business surveys suggest that the recovery in capital spending should resume soon."