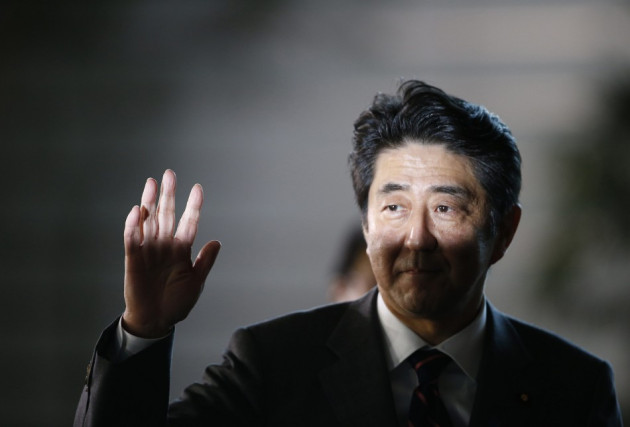 Japan's new Prime Minister Shinzo Abe who is considered a "hawk" on foreign policy issues, especially China, is assuming office amid tensions over territorial disputes.
The 58-year-old Abe becomes the seventh prime minister of the country in less than seven years. Abe, who has staged a comeback after five years, is likely to form his cabinet in the next few hours.
"I want to learn from the experience of my previous administration, including the setbacks, and aim for a stable government," said Abe.
Abe's conservative Liberal Democratic Party (LDP) had defeated the Democratic Party of Japan (DPJ) by a huge margin in the recently held parliamentary elections.
Abe is taking over at a time when China is "highly concerned" over the tensions in the East China Sea archipelago. Beijing sounded an alert after Tokyo reportedly dispatched fighter jets over the disputed island which is known as Senkaku in Japan and Diaoyu in China.
"As far as I know, China's marine surveillance plane you mentioned has been conducting routine patrols in airspace over the East China Sea. The Chinese side is highly concerned with, and alert to, Japan sending the Air Self-Defence Force jets. The Chinese side will pay close attention to Japan's intentions," said Beijing's foreign ministry spokesperson Hua Chunying.
Meanwhile, a new Japanese ambassador has arrived in Beijing with the "top task" of easing relations with China.
Veteran diplomat Masato Kitera conceded that his job will not be an easy one but insisted that healthy relations with China are of vital importance to both the countries. The Japanese media reports that lawmaker Fumio Kishida will be made foreign minister.
Other likely members of the cabinet also have vast diplomatic experience dealing with China, but according to analysts, reducing tensions with China will be a tough task, given the hardline positions.
"These are really LDP right-wingers and close friends of Abe. It really doesn't look very fresh at all," says Sophia University Professor, Koichi Nakano.