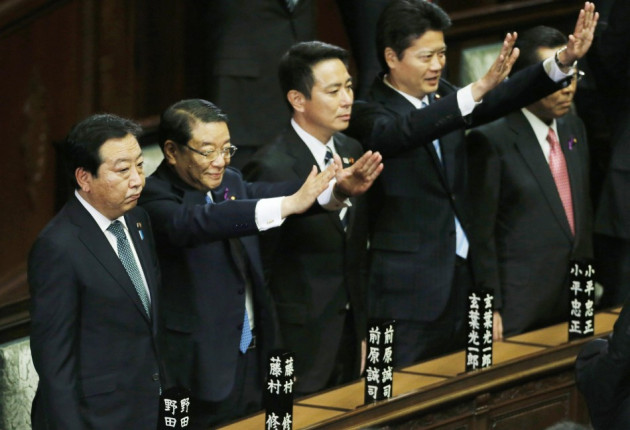 Japanese Prime Minister Yoshihiko Noda has dissolved the lower house of parliament, Diet, paving the way for a mid-December election.
Noda became the prime minster in August 2011 and was the third prime minister of the Democratic Party of Japan (DPJ) since it came to power in 2009. The latest development marks the end of the three-year rule of the DPJ which has witnessed serious policy paralysis plaguing the country for some time.
Several important pieces of legislation relating to electoral reforms, a proposal to double the sales tax and the future of nuclear power in the wake of Fukushima disaster have been stalled.
Besides, Japan's entry into the US-led Trans-Pacific Partnership (TPP), a trade treaty that includes ten other countries apart from the US, has been stuck due to lack of cooperation from the opposition.
The dissolution of parliament follows an earlier promise of Noda for such a move in response to opposition's support for electoral reforms aimed at reducing the differences in the weight of votes in different constituencies as well as reduction of seats in the lower house.
"If we can reach a clear resolution on this, then I am willing to dissolve the lower house this Friday the 16th," said Noda.
Japan is expected to go to the polls on 16 December. The latest opinion polls indicate the return of the opposition Liberal Democratic Party (LDP) with the former Prime Minister Shinzo Abe at the helm; it also points to the likelihood of a coalition government.
The return of Abe, a high-profile conservative politician, is widely seen to be not encouraging for Japan's already deteriorating relations with China.
In October, Abe visited the Yasukuni Shrine much to the discontent of China and South Korea. The shrine honours Japan's war dead including convicted war criminals and is seen as a symbol of Japan's past military aggression in the region.
Abe has already called for stronger action by the Bank of Japan to revive the economy and to curtail the strength of the yen to boost exports.