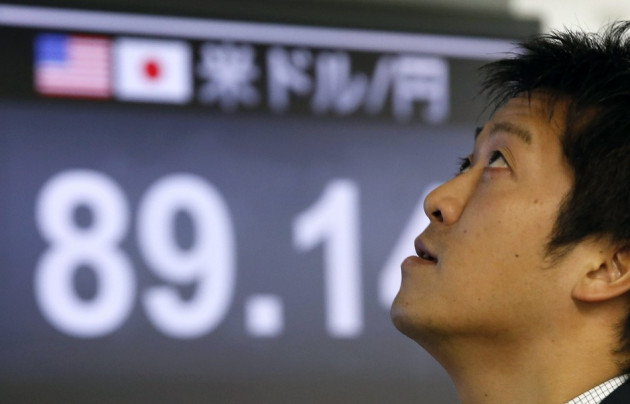 The newly elected Japanese government has approved a fresh stimulus package worth 10.3 trillion yen ($116bn; £72bn) in a bid to boost the country's ailing economy in the face of continuing weak external demand.
According to a statement from the government cabinet office, the package includes spending aimed at infrastructure development and boosting business investments. The government expects the package to bolster the Gross Domestic Product (GDP) by 2 percent and add about 600,000 jobs.
"Bold monetary easing is essential in beating deflation and a strong yen," said Japanese Prime Minister Shinzo Abe after announcing the stimulus plans. Abe, who advocates aggressive monetary easing measures to spur growth, has also put pressure on Bank of Japan to raise inflation target to 2 percent.
The slump in global demand due to economic slowdown and territorial disputes with its largest trading partner, China, has pulled the Japanese economy back in the recent quarters. The economy is considered to be technically in recession after the government confirmed that growth had contracted 3.5 percent year-on-year in the third quarter.
A number of recent economic indicators have pointed to growth slowing down further in the final quarter of the year. Following lacklustre industrial and manufacturing figures, latest data has shown that Japan's current account, which usually remains in surplus, has fallen to massive deficit of 222.4 billion yen in November.
Abe, who came to power following a massive electoral triumph in December, has also promised to take further measures to weaken the yen, which is expected to boost Japan's export driven economy. Hopes of monetary easing measures have already weighed the yen almost 12 percent lower against the dollar since November. The government plans to keep a close scrutiny on the currency's value and "respond as appropriate".
The authorities also aim to increase funding by selling more bonds, about 5 trillion yen, than originally planned in the fiscal year. The effects of the current measures are expected to be visible in the fiscal year beginning in April.
But the strong stimulus measures have given rise to concerns that the government might ignore fiscal reforms, increasing the risk of a public debt that is almost twice the size of the economy that could cause a surge in bond yields. Bond yields have picked up steadily since December elections.
"Abe will probably give the economy more shots in the arm and turn a blind eye to fiscal discipline until the elections," said Hiroaki Muto, a senior economist at Sumitomo Mitsui Asset Management Co. in Tokyo told Bloomberg.
"There's a risk that long-term bond yields will rise unless the government takes measures to restore fiscal health."
Japanese stock markets cheered following the stimulus measure announcement, with the Nikkei hitting a 23-month high in the morning trade session.