Japan: Typhoon Etau floods send hundreds of tonnes of contaminated Fukushima water into ocean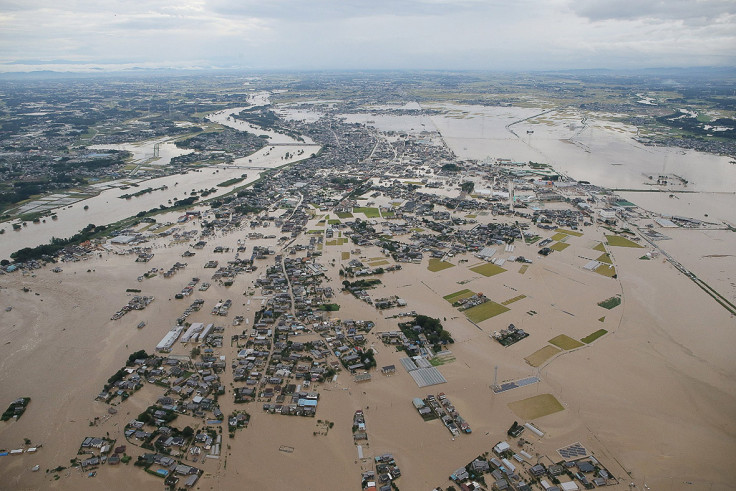 Flooding caused by Typhoon Etau has sent hundreds of tonnes of contaminated water from the Fukushima nuclear plant into the ocean, a Tokyo Electric Power (Tepco) spokesperson said. Rain overwhelmed the site's drainage pumps, they added.
Tepco is storing massive quantities of contaminated water that was used to cool melted fuel in the reactors damaged by the 2011 earthquake and tsunami that devastated the site. In a statement regarding Typhoon Etau earlier in September, the company said the site was at risk from the storm.
"Typhoon No.18 (Etau) is expected to approach the central area of Japan's honshu island and could affect Fukushima Daiichi Nuclear Power Station as well in the next few days," it said. "To prepare for the heavy winds, the crane necks are lowered and all the equipment is secured with ropes and covers onsite as standard procedure for construction sites.
"For heavy rains, Tepco has standard procedures to install rainwater guttering on the upper part of the water storage tanks and also to construct dikes around groups of tanks, which is applied to all of the recently added storage tanks."
Japan's Meteorological Agency said large parts of the country remains either on a warning or emergency warning for severe weather, with Tochigi and Ibaraki at greatest risk. Fukushima prefecture, to the north of both Tochigi and Ibaraki, is at risk of heavy rain, with ground-loosening and inundation possible.
Etau has led to devastating floods in Japan, with several people reported missing and water levels at waist height in some areas. "This is a scale of downpour that we have not experienced before. Grave danger could be imminent," forecaster Takuya Deshimaru said at an emergency press conference.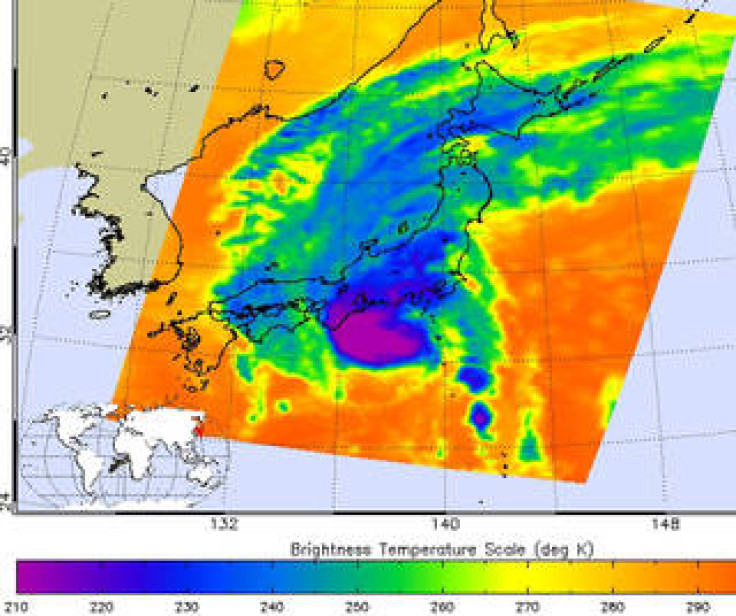 The AIRS instrument aboard Nasa's Aqua satellite provided this infrared look at Etau land falling in east central Japan. Strongest storms with coldest cloud tops appear in purple
NASA JPL, Ed Olsen
Nasa satellite images showed the storm as it moved across central Japan. The intense rainfall moved northwards over the main island of Honshu, with almost 12in of rain reported. The storm has now weakened and moved over the Sea of Japan, where it is expected to dissipate, but rain has continued to hit the country.
Tens of thousands of people have had to leave their homes, with dramatic footage showing floods sweeping away buildings and cars. Prime Minister Shinzo Abe said officials are working hard to rescue people and aid those effected: He added: "The government will stand united and do its best to deal with the disaster... by putting its highest priority on people's lives."
© Copyright IBTimes 2023. All rights reserved.