At least three people have died and 23 are missing after floods swept houses off their foundations and crushed them under landslides across Japan, forcing more than 100,000 to flee. The waters are slowly retreating in the worst-hit city of Joso after washing houses away, sometimes with their owners still inside, in scenes reminiscent of a tsunami.
A 63-year-old woman was crushed when her house was hit by a landslide and another woman died when her car was swept away. At least 28 people were injured, eight seriously. More than 280 people have been airlifted out of Joso. A man in his 20s died after falling into a drainage ditch in Nikko city.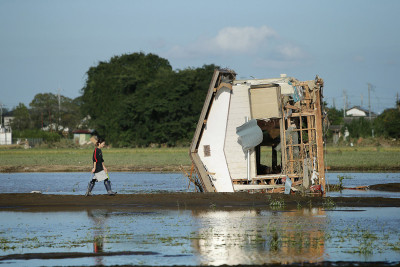 Some parts of Japan received more than twice the usual September amount of rain in 48 hours, sparking some of the worst flooding in more than 60 years. Two eight-year-old children are among the missing as the flooding spread north to Miyagi prefecture, whose coastline was ravaged by the 2011 earthquake and tsunami. Some of those rescued said the flooding brought back memories of that disaster. Helicopters crisscrossed skies over the largely rural town of Osaki, 350km north of Tokyo, which was inundated by the Shibui river.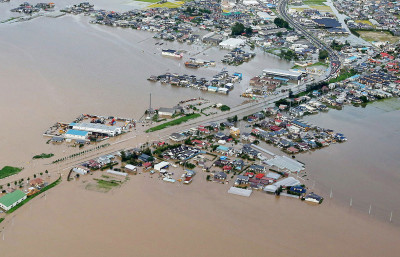 The flooding did not reach nuclear reactors damaged in the 2011 disaster in Fukushima but at least 30 bags filled with suspected radioactive grass and other contaminated material were swept away from a site where they were being stored in a nearby town. Most of the bags were recovered undamaged and none of the contents – which were from an area with low levels of radioactive contamination - had leaked, the Environment Ministry said.