Japanese encephalitis: China denies India's request for additional doses of vaccine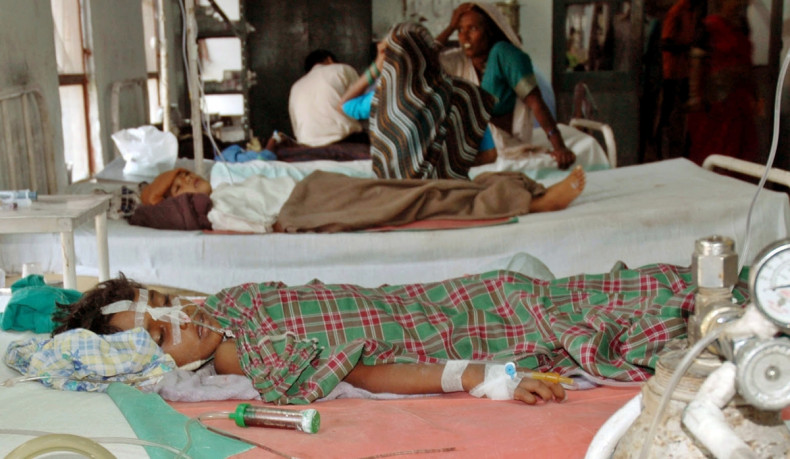 China has refused to supply additional doses of the Japanese encephalitis vaccine to India, raising concerns over control of the mosquito-borne disease which intensifies during the rainy season.
"We have been importing from China. However, they have refused to supply more citing capacity constraints and commitments to other countries," a senior health ministry official told the Times of India.
A high-level delegation with officials from the health ministry is visiting Beijing to negotiate on the vaccine purchase.
Cases of deadly Japanese encephalitis have risen nearly five-fold in five years in India's north-eastern Assam state which has also seen a recent spurt in JE cases among adults, something exceptional in global context so far.
There is no cure for the disease and vaccination offers the best protection against the virus.
India currently procures 66 million doses of JE vaccine from China but has sought an additional 16 million doses to expand the coverage of its ongoing National Programme for Prevention and Control of Japanese Encephalitis.
China is currently one of the world's major suppliers of the low- cost JE vaccine and is supplying at least seven countries.
India too has developed the vaccine indigenously but the cost of manufacturing the required amounts is high and presently not viable, say sources.
Climate change aids disease vector
Climate change is believed to play a major role in the spread of the disease, which once appeared largely from May to July, but now is seen as late in the year as November, as mosquitoes survive longer in warmer conditions.
Warmer conditions that allow farmers to grow more crops of rice each year have resulted in rice paddies with standing water offering a breeding ground for mosquitoes for a good part of the year.
The disease burden is high in 171 districts of India, spread across 19 states including Uttar Pradesh, Assam, Bihar, Tamil Nadu and West Bengal.
Japanese encephalitis (JE) is a flavivirus related to dengue, yellow fever and West Nile viruses, and is spread by mosquitoes.
The disease is characterised by inflammation of the brain and symptoms include high fever, headache, vomiting, confusion and, in severe cases, seizures, paralysis and coma. The disease results in brain damage in 30-50% cases.
Children and elderly people are especially at risk.
According to the World Health Organization, it is the main cause of viral encephalitis in many countries of Asia with nearly 68 000 clinical cases every year. The case-fatality rate among those with encephalitis can be as high as 30%.
Around 24 countries in the WHO South-East Asia and Western Pacific regions have endemic JE transmission, exposing more than three billion people to risks of infection.
With no cure available, treatment is focused on relieving severe clinical signs and supporting the patient to overcome the infection.
Safe and effective vaccines, however, are available to prevent JE.
The live attenuated SA14-14-2 vaccine manufactured in China has become the most widely used vaccine in endemic countries, and it was prequalified by WHO in October 2013.