Japanese Minister Sanae Takaichi in Neo-Nazi Photo Controversy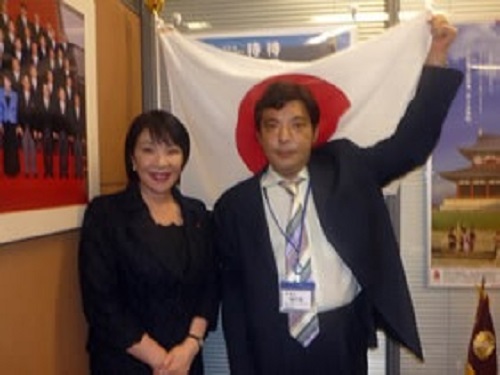 Japan's newly-appointed internal affairs minister has become embroiled in controversy, along with a prominent centre-right lawmaker, after pictures of them posing with a neo-Nazi leader emerged online.
Holocaust-denier Kazunari Yamada used his political party's website to publish photos of himself standing in front of a Japanese flag with Sanae Takaichi, who recently joined Prime Minister Shinzo Abe's cabinet, and the Liberal Democratic Party's policy chief Tomomi Inada.
A self-styled neo-Nazi, Yamada, 52, is the leader of the fringe National Socialist Japanese Workers Party (NSJAP), whose insignia is a mixture of a swastika and a Celtic cross.
The two separate snaps appeared on the NSJAP's website alongside blog postings praising Adolf Hitler and the 9/11 attacks.
According to the photo captions, Yamada met the two senior politicians in 2011 as he visited their offices "for talks".
When the snaps emerged, Takaichi and Inada moved to distance themselves from the neo-Nazi leader.
A staff member for Inada denied she shares any of Yamada's extremist views. Meanwhile a spokesman for Takaichi said that, when the photo was taken, the minister was not aware what Yamada stood for.
"He was an assistant for an interviewer, and was taking notes and photos," the spokesman said in reference to Yamada, AFP reported.
"We had no idea who he was back then, but he requested a snapshot with her. (The minister) wouldn't refuse such requests."
Takaichi was brought into Japan's government as internal affairs minister by Abe during a cabinet reshuffle last week.
Abe's administration has been harshly criticised because of its strident nationalism.
In particular, tributes paid by government members to Japan's WWII "martyrs" who were convicted as war criminals after the conflict have sparked outrage in South Korea and China.
Both Takaichi and Inada are known to have visited a controversial shrine that honours Japan's war dead, including 14 convicted war criminals.
© Copyright IBTimes 2023. All rights reserved.