Jason Hawkes, Britain's favourite aerial photographer, has taken to the skies over London to show to rapidly changing face of the capital.
His aerial pictures offer a close-up look at Battersea Power Station, where one of the iconic chimneys is slowly being chewed down to a stump (all four chimneys will be rebuilt). He captures the new cluster of skyscrapers in the City of London lit up at night, giving a bird's eye view of new additions to the skyline, like the Cheesegrater and the Shard.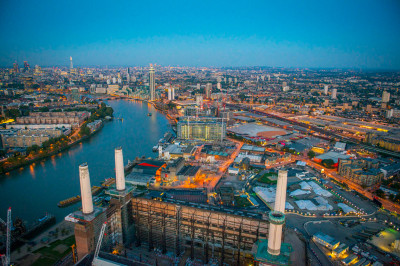 His photos offer us an unusual view of Londoners at work and play: climbing the O2 Arena, swimming lengths in the pool at Brockwell Lido, dipping their toes in the Princess Diana Memorial Fountain, dining in rooftop restaurants, and waiting for trains to take them home again.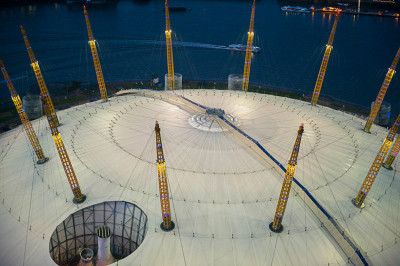 Hawkes is one of the world's most prolific and sought-after aerial photographers. He has been hovering over cities with a camera since 1991 - initially in microlight aircraft and then hanging out of helicopters.
He says he loves shooting just after dusk, when the city lights come on and there is a tiny bit of colour left in the sky. New advances in digital camera technology allow him to capture the city at night. "It's a fantastic city - the sprawl when looking from above is incredible," he says.
He has allowed IBTimes UK to share his video footage, shot from a helicopter swooping over London, as well as video of him in action.
Hawkes was the official photographer on the BBC's huge Britain From Above project. He has published more than 40 books, including New York at Night and London at Night. His first book, London from the Air, came out when he was just 23 and has gone on to sell more than 160,000 copies.
He says: "Each time I fly over London I notice the landscape constantly changing, new developments seem to appear overnight."
To see more, visit his website at www.jasonhawkes.com. Follow Hawkes on Twitter at @jasonhawkesphot for the latest info and behind-the-scenes pictures.