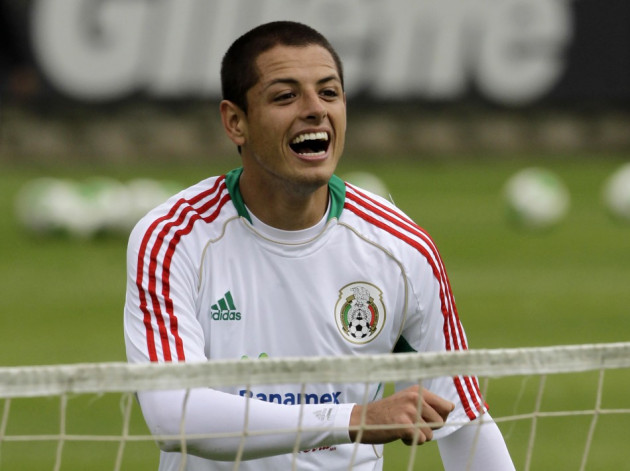 Manchester United striker Javier Hernandez would consider leaving the club in order to fulfil his ambition of starting more games, the Mexican international has revealed.
The 25 year old has begun just two of David Moyes' 11 matches in charge of the Premier League champions since taking over in the summer, due to a combination of a hamstring injury and the form of Robin van Persie and Wayne Rooney, who have netted 11 goals between them this season.
Since scoring 23 goals in his debut season in English football - the highest tally achieved by a player in his first year at United since Ruud van Nistelrooy in the 2001/02 campaign - Hernandez's opportunities have dwindled following the signing of Van Persie and the emergence of Danny Welbeck.
Hernandez made just nine Premier League starts last term but he remains vital to the Mexican national team's chances of reaching the 2014 World Cup, having played in all of their 14 qualifying games and scored five goals.
But for his opportunities with his country to mirror those with his club, Hernandez, who in the past has been linked with moves to Chelsea and Real Madrid, has admitted he may have to consider leaving United in the near future.
"I am going on four years here at Manchester United and, like I have always said, I am happy to be able to play for one of the best clubs in the world," he said.
"I am happy, doing my best every single day to earn more minutes on the pitch. All of us want to be able to contribute our part so this team can win championships.
"I strive for that, I am working towards that; earning a spot as a starter.
"I know my performance on the pitch will allow me to achieve that goal someday either here [in Manchester] or elsewhere for any other club. I just need to be given more opportunities to showcase what I can do.
"What better way to compete anywhere in the world than to compete with them [Rooney and Robin van Persie]?
"The competition inside the team has always been really healthy. That helps a lot. Everyone wants to earn a starting spot."
Mexico must beat both Panama and already-qualified Costa Rica to stand any chance of playing in Brazil next year and could have to rely on a play-off against New Zealand in November to secure their place.