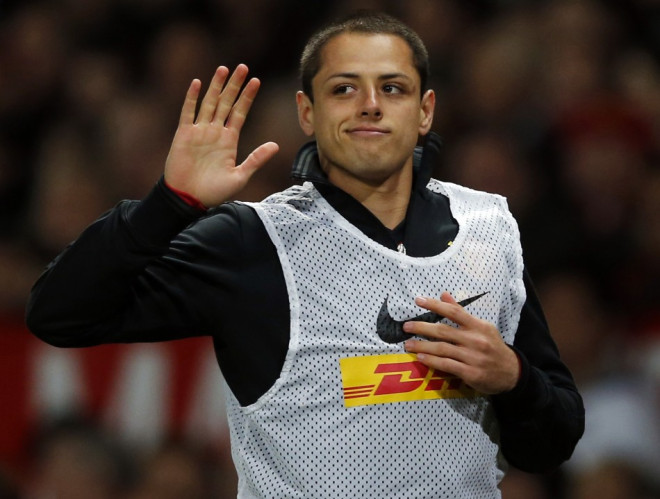 Manchester United striker Javier Hernandez has not agreed a deal with Inter Milan or any of the club's interested in his services, the player's agent has confirmed.
Reports over the weekend suggested Hernandez was set to become the second United player to move to the San Siro this summer, after Nemanja Vidic clinched a move to Inter earlier this month.
But Hernandez's agent says no such deal has been agreed with Inter or any of the other six club understood to be tracking the Mexico international, including Ligue 1 giants Monaco.
"I think these are just rumours. I have no news of Inter and Manchester United have not let me know anything about a possible offer," Eduardo Hernandez told calciomercato.it.
"The same goes for the other teams that have been linked to my client, to date there is nothing concrete."
"Currently, we are not able to say it because we should talk with United, the club with whom Javier still has several years of the contract.
"At the moment we have not planned any meetings with the Red Devils."
Inter Milan president Erick Thohir confirmed earlier this week: "Chicharito is a good player but we have not spoken neither with he nor with Torres."
With United having defended their Premier League title in feeble fashion, manager David Moyes is planning a summer overhaul at Old Trafford.
Rumours are abound that Ryan Giggs, Rio Ferdinand and Robin van Persie could all be part of a mass clear-out and with Hernandez - who has scored just twice in 16 league appearances - having had limited influence this term the 25 year old could also be deemed surplus to requirements.
Hernandez's agent told ESPN Deportes in January: "I was in Manchester [earlier this week], I met with the chairman. Javier is considered among the most important players at the club.
"Chicharito will not leave United within the next six months, but we do not know what will happen after [the World Cup].
"There's been a club in Germany, one in France, two clubs in Spain and two more in Italy that are hoping to count on his services.
"We hope that he gets minutes [before the end of the season]. Then, after the World Cup, God will tell us what will be the next step."