Key features:
Battery life up to 15 hours
256 x 80 x 93mm, 1.27kg
Voice Customisation
Works as Bluetooth speakerphone
Android app
Price as Reviewed: £259.99
Introduction
From the name Big Jambox you might expect this to be a sizeable item. The marketing messages on the packaging (see below) even seem to suggest it could sit on your shoulder and be carried around like a massive 1980s beatbox.
Given that build up, what you see when you crack open the packaging is a surprise. With Dallas back on TV, it is always possible square shoulder pads might make a comeback and Jawbone's Big Jambox could perch happily on one of those. That's the only way this is going to work as a traditional beatbox.
Nevertheless, this well-crafted, good looking speaker can easily be carried to the park, the beach, your garden - wherever, and kick out the same amount of sound as its 1980s counterpart.

Jawbone Big Jambox: Construction
The design of the Jawbone Big Jambox is fairly understated - anyone who already owns the smaller Jambox will recognise the square corners and long form factor - but we like it all the more for its simplicity.
We tested out the white model, which wraps a wavy, hex-patterned metal skin around its precision-tuned drivers and two passive bass radiators. Those opting for a grey coloured unit get the same pattern, while a red Big Jambox features a very attractive dot pattern.
No matter which pattern you opt for, they all match the same dimensions and feature the same buttons on the top. These look like the icons on a PlayStation gamepad and allow you to pause, play and skip your music, raise and lower the volume and answer calls that come through on a paired phone.
So how large is the Big Jambox? At 1.27kg it could test your airline suitcase allowance and measuring 256 x 80 x 93mm it is also a handful, although the fact you can actually grip it in one hand maintains its portability.
Jawbone Big Jambox: Connectivity
The Big Jambox really looks like it should be an iPod dock - all that is missing is the usual Apple connector.
There is no Apple favouritism here, though. On most iPod/iPhone docks it always feels like you are using the servants' entrance when you run a 3.5mm lead into the back of them, but here at least all devices are treated equally.
Playback is handled either by that 3.5mm port or via a wireless connection using Bluetooth. The details of up to eight devices can be stored in the Big Jambox and two of them can be connected to the speaker at any one time.
The company quotes a range of 33ft for a Bluetooth connection but be aware that in practice it could work over greater distances if you are outside with no intervening walls. You could find someone else at your party is having a phone conversation for you if you have stepped away from the speaker (see Other Functions below).
The only other ports are a connection point for the charger and a microUSB port. On some speakers these are almost interchangeable as the internal battery will be recharged using the USB connection.
This is not the case on Jawbone's Big Jambox, which only uses its USB connection for software updates and app downloads. That charger is coming with you if you are going to be using it for longer than the 15-hour battery life.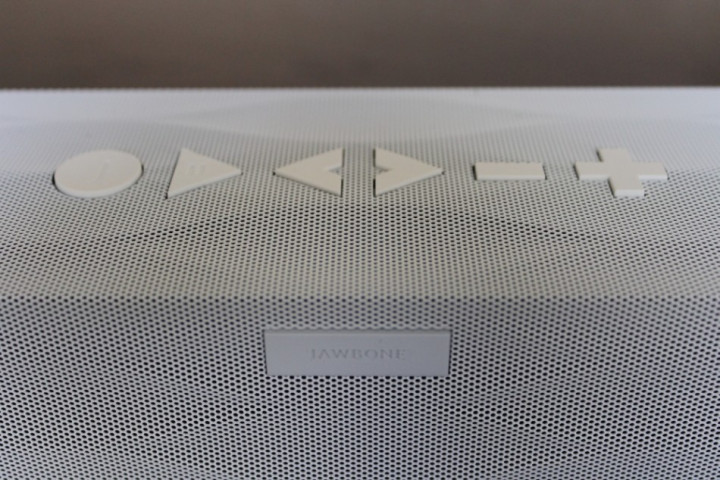 Jawbone Big Jambox: Sound Quality
"Mortal Kombat: Legacy Jax, Sonya and Kano (Part 1)." That's what we typed into YouTube as soon as we had paired our Nokia Lumia 900. And we weren't disappointed.
The dialogue, background factory noise, music and explosions in one of our favourite web videos resonated out from the Big Jambox. Amazingly, the device does not have a built-in subwoofer but you would not know that from the depth of the bass.
Full audio remains clear even at a very high volume, which stakes this speaker's claim to be your main source of playback at a party or other event.
Overall, the Jawbone Big Jambox provides a vibrant, rich sound whether you are streaming music or playing the trailer to The Hobbit.
If you connect your Jambox to the online download service at Jawbone.com/mytalk you can also install LiveAudio. This uses BACCH 3D sound technology to make it appear as if you are hearing the sound "live on stage". This only works when connected wirelessly via Bluetooth, so you can't get the same effect if you are using the 3.5mm jack.
In practice this delivered a slightly diffused sound, with a reduced maximum volume. The effect does work to make music appear more ethereal but we were keen to get back to the crisp notes produced in regular mode.
At first we were worried LiveAudio could only be turned on and off by connecting the Jambox to your computer and logging into the software to change the settings. However, it can easily be switched between the two by holding down both the plus and minus volume buttons on the top of the device.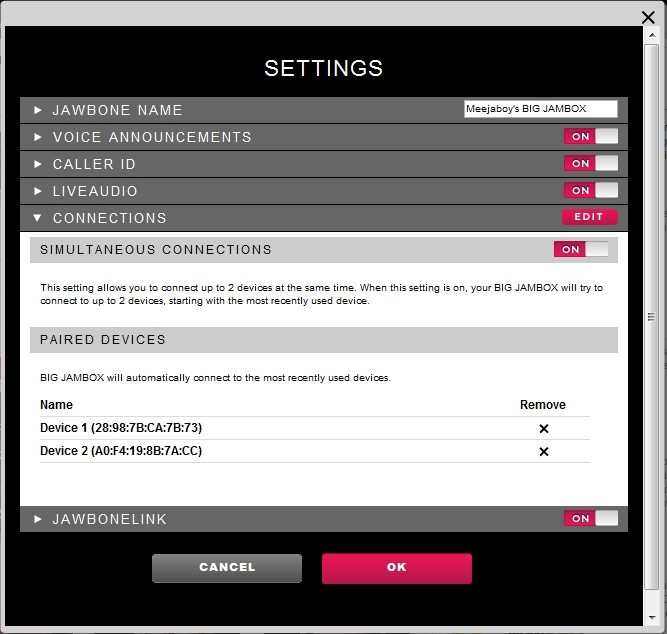 Jawbone Big Jambox: Other Functions
Once paired, everything that usually comes through the phone's speakers will be played through the Big Jambox, whether you want it to or not.
Calls can be answered by pressing the J button on top of the speaker but answering it on your phone as normal still routes the call through the speaker. The built-in microphone also lets you enjoy hands-free calls using software such as Skype and FaceTime.
Conversations routed through the speaker came through loud and clear at our end. The person at the other end did experience an effect often caused by speakerphones and asked if we were in either a church or a toilet. There was no problem understanding what we were saying though, even when we moved into a busier environment.
Connecting to Jawbone's MyTalk website also allows you to download apps and updates for the Big Jambox. This includes the LiveAudio software we mentioned in the section above.
Using apps it is possible to change the voice of your Jawbone, including to different languages such as French, Japanese or Spanish (we went for an ultra-geeky classic gaming voice that delighted the office). You can also manage its settings and name your device when it is connected.
An Android app - called the Jawbone Companion - also handles a range of mobile options, allowing you to hear calendar alerts, see a Jambox battery meter displayed on your phone, and more.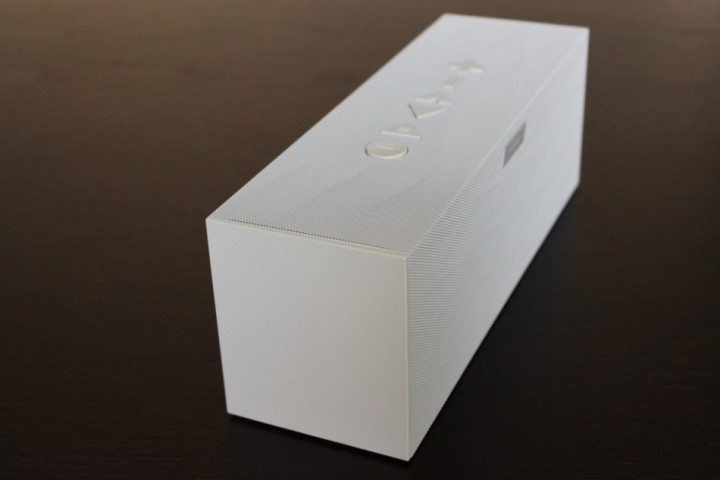 Jawbone Big Jambox: Price and Verdict
How much does a great looking speaker with a big sound cost? A mere £259.99.
That might seem like a lot in these austere times, but it is on a par with Bose's SoundLink Wireless Mobile speaker, which retails at £249.95. Unfortunately, as with Bose's device, there is a distinct lack of extras given that price tag.
As the Big Jambox is designed to be a portable sound system, a carrying case and additional plugs for overseas charging might be expected as standard. All you get in the box is a charger, USB lead and 3.5mm connection lead.
A natty looking carrying case for the Big Jambox does exist but it is sold separately, with a $50 price tag on the US website (and no listing yet on the UK site).
As it is, those omissions only slightly dent the Big Jambox's portability credentials. With an exquisite sound no matter what the source, this is something you should be packing in your luggage or carrying to the park.
Scores:
Overall: 9/10
Design: 9/10
Playback: 9/10
Connectivity: 9/10
Value: 7/10
The Good
Great sound
Good connectivity
Doubles as speaker phone
The Bad