Key Features:
Weighs 6g

Available in black, bronze, silver or red

10 hours battery life

Noise Assassin 4.0 technology

Price as Reviewed: £79 (£109 with charging case)
Jawbone Era Bluetooth Headset Review
Back in 2009 Brad Pitt appeared on the front cover of Wired wearing a Bluetooth headset.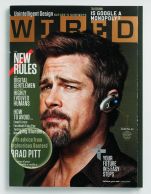 At the time a lot of people thought: "If Brad Pitt can't pull off a Bluetooth headset, then you probably can't either."
That image came back to me this week as I was given the latest Era headset from Jawbone, which is launching in 31 countries including the UK from 8 April.
It is immediately obvious that the 2014 version of the Era is a remarkable feat of engineering. It is minuscule compared to all other Bluetooth headsets I've tried, and is 42% smaller than Jawbone's original Era headset which launched just three years ago.
Despite it's size the new Era promises superior performance and battery life and Jawbone claims it allows users to reclaim the power of their smartphone even when it is in their pocket.
But can it overcome the "Brad Pitt problem"? Can the Era finally prove that you can wear a Bluetooth headset and not look like a bit of a berk?
---
Jawbone Era: Design
---
The new Era by Jawbone is a stunning piece of design. It is just 46mm long, 21mm wide and 13mm tall. It weighs just 6g and features the now instantly-recognisable Jawbone hatched design language seen on products from its Jambox speakers to its Up fitness trackers.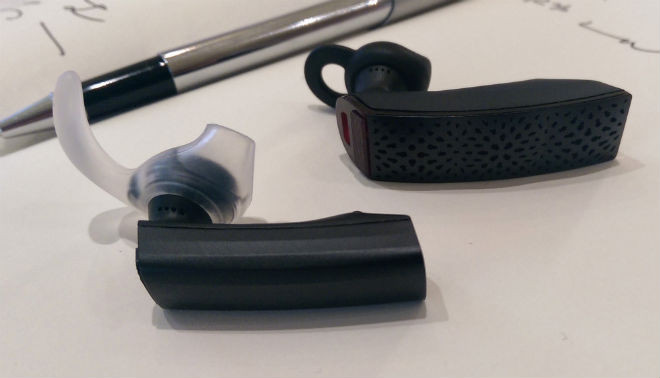 It features one button on the back which you use to activate the device, and this sits next to the microUSB charging port.On the inside you'll find the on-off switch.
The headset comes in black, silver, bronze or - if you are really brave - red.
It is small enough and discreet enough to go unnoticed for most of the time you are wearing it, though once you start using it, people will spot it (or think you're a bit crazy).
---
Jawbone Era: Comfort
---
The earpiece comes with four interchangeable earpieces - small, medium and large for the right ear and medium for your left ear (which Jawbone says covers 80% of its users, but should you need other sizes it will provide them.)
The soft silicone inserts fit easily into your ear and despite me having pretty dainty lugholes, the smallest earpiece was still small enough to fit comfortably and never felt it was going to fall out. However I didn't manage to test it out while cycling, running or doing anything more strenuous than riding the Tube in London.
I had the earpiece in for a couple of hours at a time, and while at the end it was a relief to take it out, it never felt like too much of a burden thanks to its lightweight design and the way it didn't impinge on my face.
---
Jawbone Era: Audio Quality
---
Jawbone claim that despite the size reduction, it has boosted the audio performance of its Bluetooth headset. I found volume and overall sound quality to be excellent when you consider the size of the headset, but in crowded conditions I struggled to hear people on the other end of the phone.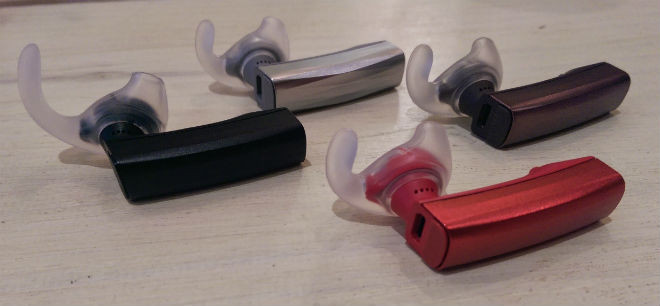 People I spoke to had similar experiences.
When I was indoors in a quiet location, audio quality was great, but if I was outside in a crowded location, the company's patented Noise Assassin 4.0 technology didn't manage to do what it claimed, with conversations sounding muffled on the other end of the line, and lots of ambient noise still coming through.
Jawbone also says that despite it essentially being a mono headset, many of their users listen to music or podcasts on these headsets. One situation this happens a lot is when riding a bike, the company says, as riders like to be able to listen to music as well as being able to hear any approaching traffic.
While I didn't get to try the headset while cycling, I found that if I was in a windy location or a crowded Tube carriage, the music I was trying to listen to was effectively silenced.
---
Jawbone Era: Performance
---
The Era connects easily and quickly with your smartphone giving you instant hands free control over incoming calls. A voice in your ear will tell you who's calling (or the number if it's not stored in your contacts) and a tap of the button on the back of the headset will let you answer.
A double tap will let you redial and a triple tap plays or pauses your music. A long press of the button let you control your smartphone with your voice (more below). This can all be controlled using an Android or iOS app which also lets you download new voices for its system.
In these respects the headset works exactly as you would expect.
Jawbone promises 10 hours of battery time, but should you want to use the device for listening to podcasts or music, then this will deplete radially.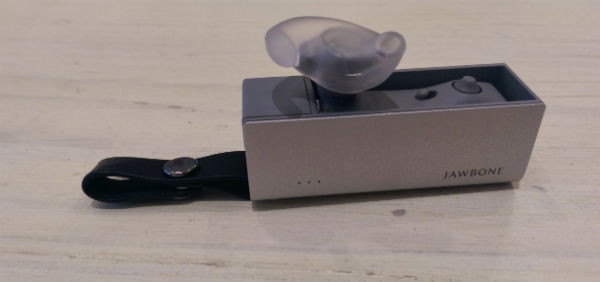 Luckily Jawbone is launching a neat charging case with the Era which can hold an extra six hours of battery, which should in combination give enough battery life for most users.
---
Jawbone Era: Smartphone Integration
---
Jawbone told me in a briefing that the Era is all about "unlocking the potential of your smartphone" while it is in your pocket, handbag or backpack.
This is done in conjunction with the new voice-activated assistants such as Siri and Google Now.
Long press the button at the back of the headset and (theoretically) you should be able to call anyone, send text messages to your friends, update your calendar, get voice directions to your restaurant - all while your smartphone remains in your pocket.
The reality is that voice recognition is just not there yet and as smooth as the system may look in adverts, in real life, it just doesn't work.
I tested the headset with both an HTC One (M8) and a Google Nexus 5. In both cases the only thing I could do while the phone remained in my pocket was call a number - which is fine, but nothing new.
I was unable to use any of the other voice-activated features without first unlocking my phone, which negates the simplicity of the system somewhat.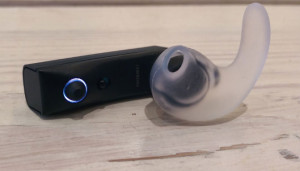 The problem is partly down to the fragmentation of Android, and Jawbone says it is in the process of putting together a list of supported smartphones and what settings you may have to switch on or off to get the system to work perfectly.
Apple is a bit better, giving more access to Siri from the off, but the problem of voice recognition remains and as well as Jawbone may have done with the voice technology on its new Era headset, we're just not there yet.
---
Jawbone Era: Conclusion
---
The Jawbone Era costs £79 (or £109 with the charging case included) and as Bluetooth headsets go, it is the pretty much the best out there.
It is small, lightweight comfortable and as inconspicuous as you are going to get with a Bluetooth headset.
The problem is that the "If Brad Pitt can't pull it off..." problem remains. Jawbone believes there is a cultural divide here, where people in the US use these headsets much more, as they are simply seen as a normal business tool.
Here in the UK however, it's going to take more than a much smaller headset to get over the problem that these headsets are seen as uncool - especially when the very features which could win you over, just don't work as advertised.
Score: 7/10