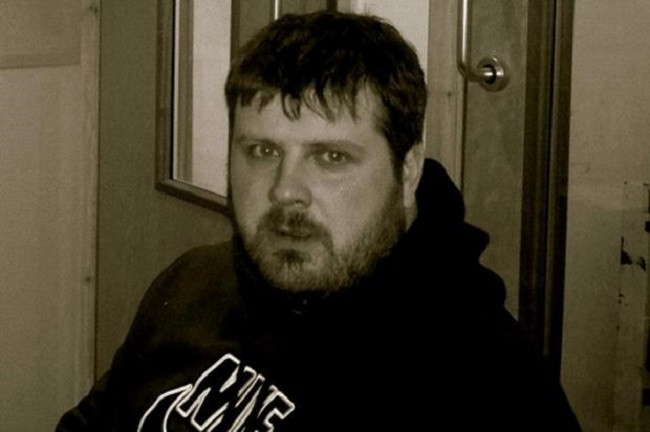 Tributes have been paid to the "very, very funny" Northern Uproar guitarist Jeff Fletcher, who was killed by a lorry in Stockport.
Fletcher, 36, was reportedly decapitated in the crash on Wellington Road on Monday.
Message of condolence have poured in for the musician, whose band found fame in the 1990s with albums such as From a Window.
Northern Uproar reformed in 2006, but Fletcher left the group last year.
"Our Jeff would not believe the amount of love and concern everyone is showing," the band said in a statement on its Facebook page.
"He was a quiet man, he didn't do Facebook. Most that have met him say the same - a gentleman, talented and very, very funny. Our thoughts and love to Jeff's family."
His family said: "We wish to remember our loving, caring, gentle giant Jeffrey Fletcher for his love of music, his talent on lead guitar and most of all, his infectious laugh.
"The outpouring of love and wishes from friends old and new shows us how loved he has been and this is a comfort to his family.
"We cannot comprehend the fairness of a loss of someone who had such success as a young man to have had his life cut so short in such a tragic and sudden way.
"He will be dearly missed by his family and all that knew him. Goodnight Jeff."
Jeff Barrett, from record label Heavenly Recordings, which released Northern Uproar's first two albums in 1996 and 1997, said: "We were very saddened to hear the news that ex-Northern Uproar guitarist Jeff Fletcher had been killed in a road traffic accident.
"We've not seen or spoken to Jeff in years but we have nothing but fond memories of the guy.
"Northern Uproar made two albums with us in the mid Nineties and they were an absolute pleasure to work with, they were great company and a lot of fun to be around.
"Martin and I look back on those days with great affection. Our thoughts go out to Jeff's family and friends."
The driver of the lorry is currently helping police with their inquiries.
Sergeant Lee Westhead said: "Our thoughts are with Jeffrey's family at this difficult time.
"Officers from the Serious Collision Investigation Unit are currently investigating the incident and I would urge anyone who witnessed the actual collision or has information about Jeffrey's whereabouts immediately before the collision, to contact us on 0161 856 4741
0161 856 4741."