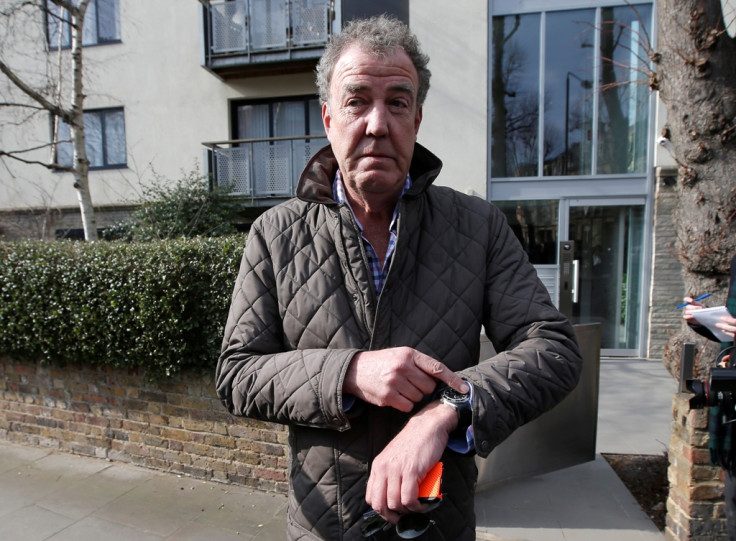 Controversial TV presenter Jeremy Clarkson has revealed that he checked into a retreat in the wake of his Top Gear sacking after suffering from stress. Writing in his Sunday Times column, the 55-year-old star said that he was sent to a "prison-like facility" for weeks by doctors who feared for his health because he was becoming a "drooling vegetable". He was still grieving the death of his mother, who died last year.
The TV veteran was sacked by the BBC back in April following a fracas at a Yorkshire hotel, during which he hit producer Oisin Tymon in a row over catering arrangements. The incident occurred month after the star was given a "final warning" by the broadcaster for using racist language.
Recalling his stint in a retreat, he said: "Back in the summer, it was decided by people with serious faces and stethoscopes that I needed a complete break. And they weren't talking about two weeks in the sun with a book, and a million cocktail parties every night. They were talking about a whole month in the Stone Age.
He continued: "They said very sternly that after dealing with the stresses of a dying mother and the BBC television chief Danny Cohen and a lost job and a million other things besides, I was about to become a drooling vegetable. I must go immediately to a prison where there would be no contact with the outside world."
During his time at the retreat he had to be in bed by 10pm each night after a day of clean living but was less than impressed with his temporary home. "I agreed because in my mind it would be a gentleman's retreat, filled with Scandinavian furniture and half-naked Vietnamese women. It wasn't. In fact it was an actual prison."
He joked that yoga was the worst part of his experience: "To fill the yawning chasm between the 5am roll call and 10pm lights out, hours and hours of what I've now decided is the absolute worst thing in the world − yoga."
The motoring broadcaster has since bounced back from the ordeal. In July, Clarkson was reunited with former co-hosts Richard Hammond and James May for a big money deal with Amazon Prime for another car show. Meanwhile, Radio 2 host Chris Evans has been hired as Clarkson's replacement for the continuation of Top Gear on the BBC. He will be leading an all-new line-up, with the hope of revamping the show.