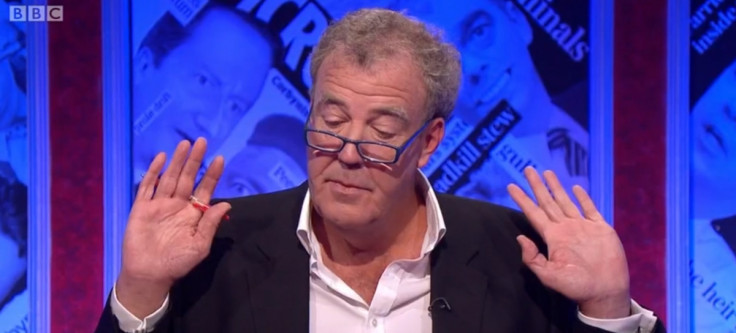 Jeremy Clarkson made his first appearance back on the BBC on Friday night, and predictably he faced some barbed jokes. Clarkson, 55, hosted the satirical show Have I Got News For You and the rest of the TV panel ripped into the star over his sacking from Top Gear and his new Amazon Prime show, in which he is to receive a hefty pay deal.
The jokes were as cringe-worthy as they were biting, with regular team captains Ian Hislop and Paul Merton, along with comedian Richard Osman and journalist Camilla Long, all taking turns to make jokes about Clarkson. In one such interaction with former Top Gear host, Osman asked if he regretted punching the BBC producer Oisin Tymon, Hislop pipes up and said Clarkson "wasn't all bad" as he had also once allegedly punched the former Daily Mirror editor Piers Morgan.
He was also teased about his relationship with new employer Amazon, for whom he and his former Top Gear colleagues James May and Richard Hammond are making a new car show. During a sound problem during filming, Osman told him: "This wouldn't happen on Amazon Prime. Are you sure it's Amazon Prime and not Amazon past-their-prime?"
The most cringe-worthy part of the show, however, was when Osman brought up the conversation about David Cameron and Piggate
He told the other contestants: "It's difficult to talk about this precisely because you're not allowed to say certain words on TV." Clarkson responds to him, saying that he could say "c**k" on the programme if he wanted to."
The comment left Clarkson open to some further ribbing, with Osman saying: "Oh OK. But I was going to just say he put his Clarkson into a pig's mouth."
However, Clarkson was happy to make jokes at his own expense, joking that he was forbidden to discuss motoring matters. He said: "I can't talk about cars on the BBC. I can't say the C-word."
Clarkson was suspended by the BBC on 10 March before it was announced his contract would not be renewed.