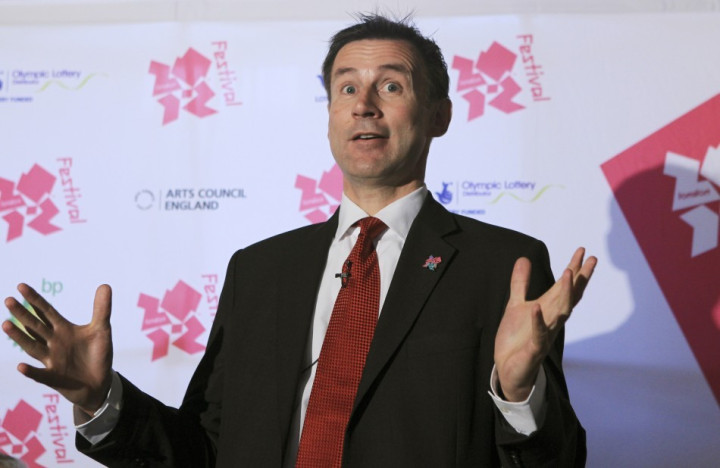 Culture secretary Jeremy Hunt has claimed it was "entirely appropriate" to have a mobile phone conversation with James Murdoch prior to taking the watchdog role in a takeover bid - despite legal advice to the contrary.
Speaking to the Leveson Inquiry into press ethics, Hunt defended the actions of his department in relation to the News Corporation bid to take over BSkyB.
The inquiry revealed that Hunt sent a congratulatory text message to James Murdoch when the bid gained European approval, on the day he replaced Vince Cable in a quasi-judicial role to oversee the bid.
Hunt spoke to Murdoch by phone on 15 November, 2010 - before he was given quasi-judicial respons to oversee the bid. The call followed the cancellation of a meeting on legal advice.
News Corp's public affairs director, Fred Michel, told Murdoch it would be "completely fine" to speak to Hunt on his phone. Hunt told the inquiry that during this period he was frustrated with Cable's response to the bid, which "could mean thousands more jobs would be created".
When asked by inquiry counsel Robert Jay QC whether the phone call was appropriate, he said: "It was always made clear to me that it was entirely appropriate and proper to have contact with stakeholders at which officials were present and taking minutes and also contact when minutes were not taken - it was at my discretion."
He admitted that he now believes it to be a good idea to have officials present at meetings due to resulting "conspiracy theories".
Hunt is fighting calls for his resignation over allegations that his department set up a back channel to News Corp during the bid process, damaging his impartiality.
The release of emails between Hunt's aide Adam Smith and Michel led to the former's resignation after he admitted acting outside the appropriate bounds.
Hunt told the inquiry that his department was regularly put under pressure by Michel during the bid process.
He said: "When you do the analysis it looks like Mr Michel was trying to contact Mr Smith five times every working day, which is an extraordinary amount we didn't anticipate at all."
Hunt admitted that he became concerned that there may be issues of corporate governance at News Corp following the Milly Dowler phone hacking scandal.
He said: "That was a very significant moment and then I began to wonder if there was a management issue of trust, if they found it necessary to close a whole newspaper [News of the World]."
He admitted that he was sympatheti" to the bid but stressed that he put his personal opinion to one side when he was given responsibility as arbiter.