Olympics minister Jeremy Hunt was left mightily embarrassed when he dropped a major clanger and the bell he was ringing broke off and flew into the crowd.
The Secretary of State for Culture, Media and Sport was aboard HMS Belfast, the Second World War cruiser permanently moored by Tower Bridge.
Hunt's overzealous bell-ringing broke the instrument in half and the heavy brass cup flew off the handle and struck a publicist in the leg. A panicky Hunt rushed to the woman to see if she was okay, before declaring to the cameras: "Disaster averted! You got more TV than you expected!"
The incident, filmed by Reuters TV, occurred just after Hunt admitted that the Olympics would not go by without a hitch.
"Well I can't say there won't be hitches because this really is one of the biggest things you can do. Twenty-six major sports tournaments all at the same time, around 100 heads of states coming in. There are huge amounts to get right.
"There are always one or two teething problems but I'm very confident that we're ready. Jacques Rogge, the president of the IOC [International Olympic Committee] said that London is more ready than any other Olympic host city has ever been and when there are things that don't go according to plan, London will cope in the way that it always has."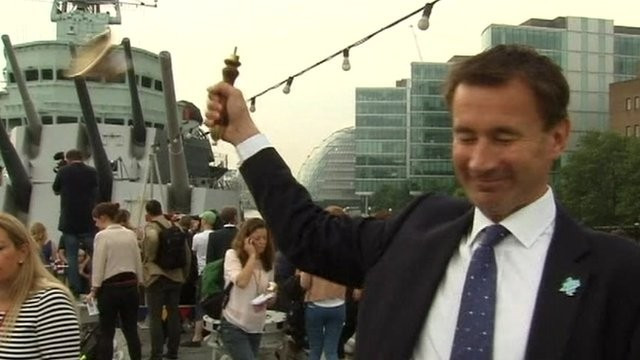 The bell-ringing took place exactly 12 hours before the beginning of the opening ceremony in Stratford, east London. Orchestrated by artist Martin Creed, chimes could be heard across the country for three minutes as they ushered in the start of the London 2012 Olympics.
Hunt acknowledged later on Twitter that his clanger was reminiscent of a scene from the BBC's popular satire Twenty Twelve.
"Oops bell broke taking part in Martin Creed's ringing in of the Games ... no one hurt but classic #twentytwelve moment"