Health Secretary Jeremy Hunt is set to rake in more than £15m from the proposed sale of an education business he helped to co-found in 1996.
Hotcourses, a listings service that he set up with his business partner, Mike Elms, is expected to announce this week that it has been sold for between £30m and £35m.
Sky News reported that a deal was said to be close to being signed Sunday evening (15 January), according to a legal source.
Companies House filings show that Hunt owns about 48% in Hotcourses, which effectively means that he is set to earn around £16.8m if the sale goes through. The news channel notes that the latest register of MPs' interests says that Hunt only holds "more than 15%" of the business.
Hunt has received millions of pounds in dividends since Hotcourses was founded. He earned almost £1m last year, Sky News said.
Hotcourses is expected to be bought over by an Australasian company with operations in the education sector.
Sky News noted that this is not the first time that Hotcourses has been in talks for its sale. In 2013, the company's shareholders, excluding Hunt, were said to have held detailed discussions with Inflexion Private Equity, but the takeover bid failed when they could not agree on the terms.
Hunt has not had an active role in the running of Hotcourses since he became an MP for South West Surrey in 2005, the news channel said. Hotcourses recently set up an international advisory group to push its overseas expansion.
Timing of sale awkward for Hunt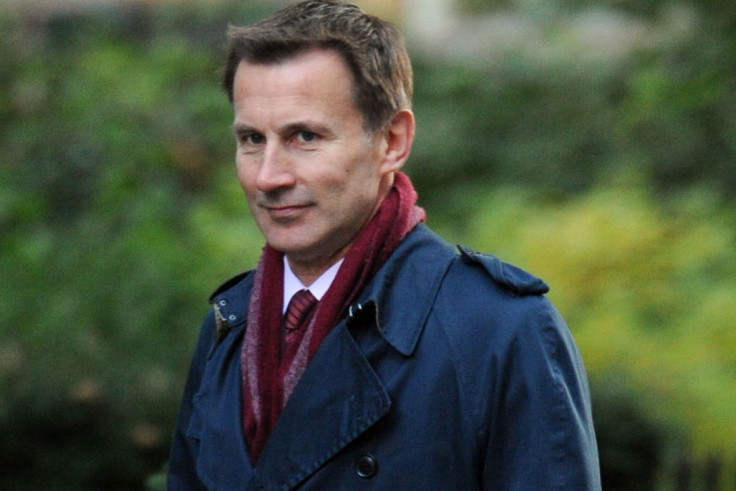 Sky News said that the timing of the sale will make things very awkward for Hunt, who is facing intense scrutiny over the National Health Service (NHS).
"He is far from the only Cabinet minister facing questions about their private wealth, even after a purge of ministers with close ties to Mrs May's predecessor, David Cameron," the news channel reports.
The NHS has been in the headlines recently after the British Red Cross said that the problems faced by the UK's healthcare provider amounted to "a humanitarian crisis". Furthermore, the continued row over extending the opening hours of doctors' surgeries reared its head again in the last few days.
Hotcourses
Hotcourses, which has more than 200 employees, was set up by Hunt after he spent two years in Japan teaching English and learning Japanese.
The organisation claims to be the world's largest course database, making more than £2m in profit in the year to July 2015. The company took over The Complete University Guide last year.