A police statement made by Kim Kardashian-West after she was robbed in a Paris jewellery heist reveals the terrifying details of the attack.
In the early hours of 3 October 2016, the reality star was held at gunpoint as five masked gunmen forced their way into her luxury apartment and took off with $11m (£8.5m) worth of jewellery, including the £3.5m wedding ring given to her by her rapper husband, Kanye West.
In her account of the incident, the 36-year-old told officers that at approximately 2.56am she "heard a noise at the door" and "shouted out" to her bodyguard but got no response.
"I heard a noise at the door, like footsteps, and I shouted to ask who was there, but no one answered," said Kardashian in the statement leaked to Le Journal du Dimanche.
She explained that as she looked through the sliding doors of her apartment she saw two people approaching with the concierge, Abdulrahman, 39 who had been forced to take the gang up to her apartment at gunpoint.
She described how the masked men forced her out to the entry hall. "I was in a bathrobe - naked underneath. We went back to the bedroom and they pushed me onto the bed," she stated.
Describing the robbers she said: "Both men were hooded; one had a ski mask and he had a cap and a jacket with 'Police' on it. The second man had the same 'Police' clothes, but did not have any ski mask. The man with the ski glasses was about 1.7m (5ft 6in), thin, black trousers, black boots. The second man, also European, was taller and he stayed with the security guard. He was around 1.8 (5ft 9ins) and was dressed in the same way as his accomplice. It was the one with the ski mask who stayed with me."
Referring to one of the men, the mother-of-two said: "He had a strong French accent and asked me for my ring [In English]. He looked at what was on the bedside table. It is worth $4 million."
She recounted how the gunman demanded to know where her diamond engagement ring was. When she told them she didn't know where it was, one of the gang members took out a gun. "He had gloves. He asked me where the jewels and the money was. We then went back to the bedroom and they pushed me onto the bed. And at that point they tied me up and put plastic cables and scotch tape on my hands, and then taped my mouth and my legs. They took me to my bathroom, more specifically in my bathtub."
Listing the items of jewellery that had been stolen, she said: "In my jewellery box there were two Cartier diamond bracelets, a Jacob necklace in gold with diamonds, earrings with diamonds by Loraine Schwarz, and others by Yanina. There were three gold necklaces by Jacob, little bracelets, jewels, rings. A necklace by Loraine Schwarz with diamonds, another little necklace with six diamonds underneath.
"Another diamond necklace with the name of my son 'Saint' on it. There was also a Jacob diamond cross. There were two rings in yellow gold. I think they robbed me of $5m."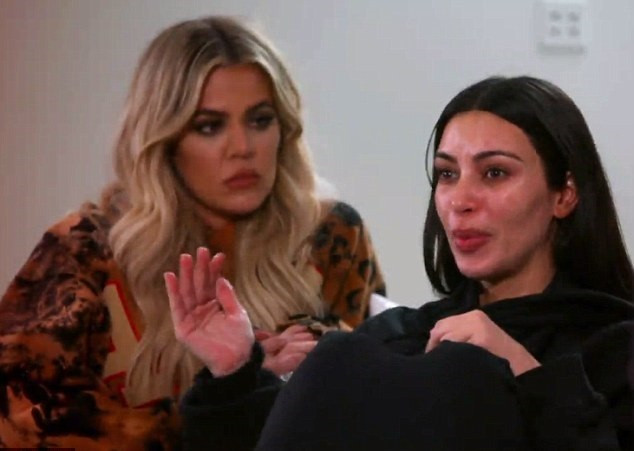 Describing how she managed to free herself when they made their getaway, she added: "Then they ran away. During the theft they had the hotel's mobile phone and it did not stop ringing, and they spoke in French. I got the impression they were saying they had to leave. Then I succeeded in pulling off the tape from my hands and my mouth. I guessed that they were a bit inexperienced in the manner in which they had tied me up."
Asked if she would recognise the attackers, Kardashian said: "Perhaps the small one, with the ski mask, but I'm not sure."
The statement was made public as police confirmed they have arrested four people in connection with the robbery, including three pensioners. Aomar Ait Khedache, a 60-year-old nicknamed 'Old Omar' and Didier Dubreucq, 60, dubbed 'Blue Eyes', have been arrested on suspicion of robbery. One of the suspects is believed to be a 70-year-old woman.
Charges filed against the suspects include armed robbery in an organised gang, kidnapping and criminal association, handling stolen goods and criminal association.
The Keeping Up with the Kardashians star has returned to work after taking a three-month break to recover from her ordeal. Her lawyers have reportedly said that she is prepared to return to France to give evidence against her alleged assailants.