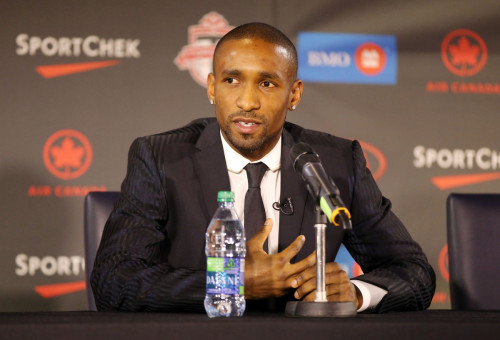 Jermain Defoe is confident of featuring in England's World Cup squad despite agreeing to swap Tottenham Hotspur for Major League Soccer side FC Toronto from 28 February.
The 31 year old will join the Canadian-based side two weeks prior to the start of the MLS campaign after re-joining Spurs on loan following the confirmation of a four-year deal.
Defoe has risked selection for the summer finals by moving away from the Premier League with manager Roy Hodgson unlikely to travel to watch the Tottenham forward in the opening months of the MLS season given the close proximity to the start of the World Cup.
The former West Ham United and Portsmouth forward has scored 10 goals in 21 appearances for Tottenham this season, the majority coming in the Europa League, and says the chance to play abroad was too good an opportunity to turn down.
"In life when a massive opportunity comes your way, sometimes it is not always easy, leaving your home town and the club you have been with for nine years – to come here and have a reception like that is such a great feeling. I feel at home already," Defoe said.
"I come here and know I will give something, not for the wrong reasons, but to do my best for the club to win trophies. It is important for me that I still feel sharp and strong.
"I can't wait to get started and to showcase my skills in a different league. For me it is a dream come true because it is always something I wanted to do [play in the MLS], even before I was aware of the interest [from Toronto]."
Wayne Rooney, Daniel Sturridge, Danny Welbeck and Andy Carroll – fitness permitting - are expected to fill four of the attacking berths in Hodgson's squad this summer and Defoe's chances of being the fifth forward on the plane to Brazil have been damaged by his switch.
"I have to be honest, I did think about the chances of going to the World Cup," Defoe added. "It is always important to play well for your club.
"Having played in a World Cup before it is just the greatest thing in the world, it is a dream come true, that is why you play football, to play in a major tournament and at that level.
"Yeah, it did cross my mind but at the same time I believe the MLS is going to be fantastic for me and it is important to be playing.
"To get into any World Cup or European Championship squad for your country, it is based on merit, which means you have to play well, be fit and ready.
"The most important thing for me is playing football, scoring my goals and doing well for the team. Hopefully I can be on the plane.
"I have played in the Premier League all of my career, scored a lot of goals and, at the age of 31, I would like to think the England manager and everyone in England knows what I can do, can bring for the country, and if selected, I will be ready."