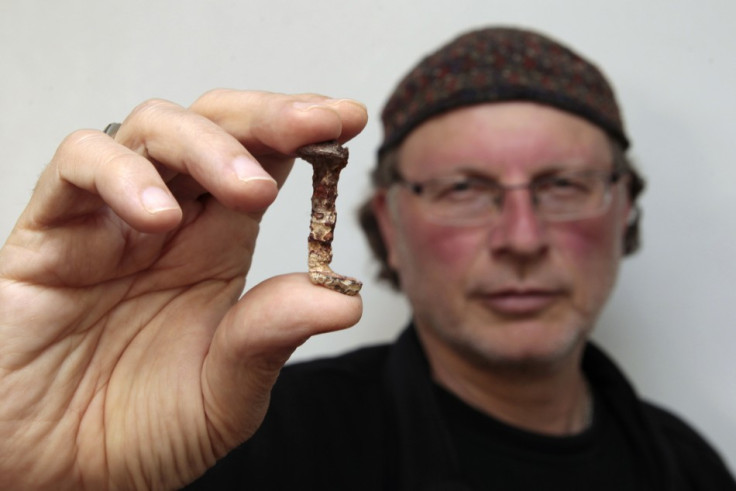 Archeologists have claimed to have found what could be an earliest record of Christianity by uncovering a first century Jerusalem tomb, which has ancient inscriptions and an iconographic image written on Jewish ossuaries or bone boxes.
The inscription on one of the lids in Greek is said to be written as "Divine Jehovah, raise up, raise up". The adjacent lid carried a drawing of a fish with a human stick figure in its mouth, which referred to the popular biblical story of Jonah and the Whale, reported the Daily Mail. The sign of Jonah has been interpreted as an expression of faith in Jesus' resurrection.
James D. Tabor, scriptural scholar at the University of North Carolina at Charlotte and filmmaker/professor Simcha Jacobovici, used a remote-controlled camera that was connected to a robotic arm to investigate below a tower block in Jerusalem and found the inscriptions on the ossuaries.
The Israeli tomb is dated prior to 70 CE. The researchers believe that the engravings on the ossuaries are Christian, which shows the earliest archaeological record of Christians ever found.
"If anyone had claimed to find either a statement about resurrection or a Jonah image in a Jewish tomb of this period I would have said impossible - until now," Discovery News quoted Tabor as saying. "Our team was in a kind of ecstatic disbelief, but the evidence was clearly before our eyes, causing us to revise our prior assumptions."
The ossuary with the image said to be representing Jonah also has other engravings. One side is the tail of a fish disappearing off the edge of the box, as if it is diving into the water. There are small fish images around its border on the front facing, and on the other side is the image of a cross-like gate or entrance-which Tabor interpreted as the notion of entering the "bars" of death that are mentioned in the Jonah story in the Bible, Discovery News reported as Tabor saying.
Many experts have accused the researchers for fabricating the meaning of the inscriptions for the sake of fame and money.
The tomb is said to be 200ft away from an earlier discovery known as the "Jesus Family Tomb," which was subject of controversy earlier.
Earlier Tabor and Simcha did a documentary "The Lost Tomb of Jesus," in 2007.The details of the discovery of the tomb of Jesus have been given in a newly released book, "The Jesus Discovery."