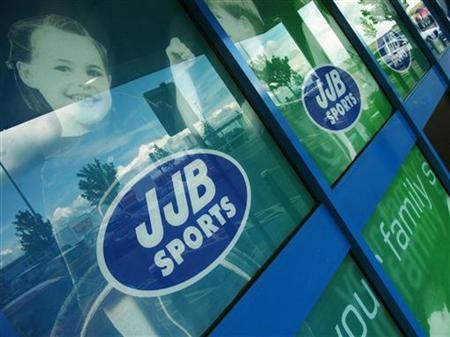 JJB Sports, the British high street sportswear and equipment retailer, has been put up for sale after the board of directors decided they would not be able to raise enough funds to pull the indebted company out of its long-time decline.
Tough macroeconomic conditions as global growth slows and Britain wades through its second recession in four years, as well as a retail market squashed by the weight of crippled consumer confidence, have pushed troubled JJB's sales and revenues off a cliff in recent years.
"The company has continued its discussions with its strategic partners regarding further capital raising and restructuring of its store portfolio to facilitate the turnaround of the group's trading performance," said a statement from JJB. "However, following these discussions, the directors do not believe that the company will be able to raise the level of funds required to implement the turnaround.
"As a result, the Board has decided to conduct a formal sale process of the company and now wishes to invite offers to support further investment in the company, which may result in a sale of the company or its assets."
JJB's share price has also collapsed, falling by as much as 80.59 percent on the day it announced it would be going on sale.
Since May 4 2007, when the first rumblings of the financial crisis reverberated, JJB shares have lost 99.98 percent of their value.
Financial Crisis Crushes Consumer Confidence
JJB's troubles started during the financial crisis, when the sharp recession and credit crunch stung British consumers, scaring them away from the high street at what was the start of a retail nightmare that is still haunting the sector four years later.
The firm's interim results in September 2008 disappointed investors, as pluses became minuses and JJB, which was founded in 1971, tumbled to a loss of £8.4m for the half year - down a whopping 196.6 percent on the same period the year before.
Roger Lane-Smith, the then non-executive chairman, said the retailer was "very cautious about the outlook". JJB's auditor Deloitte & Touche came out with stronger words saying that the tough environment and uncertain future "cast significant doubt" over its ongoing existence.
Just a month later Coface, the UK's biggest credit insurer which shields suppliers from losses if a business goes bust, said it would no longer offer cover against JJB.
As revenues dwindled further and losses spiralled, JJB ditched its non-core assets and businesses to "stem substantial losses".
It sold off its fitness clubs business for £83.4m in March 2009, having placed Original Shoe Company and Qube, which it owned, into administration the previous month.
FSA and SFO investigations surround JJB
In October 2010 the Financial Services Authority concluded an investigation into JJB, finding the company guilty of breaching its disclosure and transparency rules relating to the breach of financial covenants ahead of the reporting of interim results in September 2008.
FSA investigators slapped JJB with a costly £455k fine for breaking the rules.
Amid frantic restructuring and cost reduction, JJB said in February 2011 that it would close 45 of its 246 stores across the UK, and that a further 50 faced a final shuttering in the future.
Bubbling underneath the perpetually poor performance was an investigation by the Serious Fraud Office (SFO) into Chris Ronnie, JJB's former chief executive.
Ronnie was charged by the SFO relating to allegations of a £1m fraud involving JJB contracts.
He was accused of three Fraud Act offences in relation to failure to disclose interests in contracts entered into by the company, two money laundering offences, and two offences of furnishing false information contrary to the Theft Act 1968.
While this did not directly impact the finances of the company, who the SFO had initially investigated but dropped its inquiries to concentrate on individuals instead, it did not help its battered reputation.
Dick's offers JJB £20m lifeline
JJB was handed a lifeline by US chain Dick's Sporting Goods when, in April 2012, it pledged £20m of investment into the company as it was about to collapse
This formed part of a total £30m investment package, with the remaining £10m raised from existing shareholders.
"We believe that JJB is a strong company with the potential to become a leading multi-channel sporting goods retailer both in Britain and throughout Europe," said Edward W. Stack, chairman and CEO of Dick's Sporting Goods, which has 480 stores across America.
"We look forward to providing the company with financial support at this crucial stage of its turnaround and to using our expertise in the U.S. market to help guide its growth efforts."
Yet this optimistic trumpeting of a better future did not last long, as by August Dick's was warning that JJB had "a very big mountain to climb" and there was no certainty it would "measure up".
This change in tone came after seriously disappointing sales from the Euro 2012 Championships, which JJB had hoped would see its football stock, particularly team shirts, fly off the shelves.
No consumer rush materialised. Many Britons were struggling to cope with high inflation, low wage growth, and constant jobs fears as the country waded through a double-dip recession.
What's more, the global economic environment continues to be shaky, with the eurozone crisis still looming and slowing growth in key emerging markets hindering the UK.
Poor weather in the early summer months, which rained on the entire retail sector, and consumers under pressure from a difficult macroeconomic environment crushed sales.
JJB was forced to say at its AGM in July that further redundancies should be expected. Keith Jones, who had been chief executive since 2010, resigned as the company's downturn worsened.
Dick's Pulls Out
To make matters yet worse still, Dick's withdrew its £20m investment in August, all but sealing JJB's fate.
"JJB's performance has materially deteriorated from its expectations, partly due to a worsening macro environment in Europe, adverse weather conditions in the first quarter and lacklustre sales associated with the recent Euro Championships," said Dick's Stack.
"While we continue to believe in the underlying opportunity within the UK sporting goods market, in light of these developments and our own assessments, we have determined to fully impair the value of our investment.
"As we indicated at the outset, this is a high risk investment that was structured to provide us with meaningful upside and capped downside."
Two weeks later and the announcement came that JJB is being put up for sale. Dick's had been rumoured to have considered taking over the company at one point, while rival British sportswear retailer JD Sports had also expressed interest in 2011, but quickly ruled itself out of any takeover.
The latest rumoured interest is US fund manager Invesco, which already holds 34 percent of JJB stock, who the Sunday Times reported wanted to buy the company's outstanding debt and take control.
If anyone officially comes forward to take full ownership of JJB they will be landed with the firm's £16.5m bank debts, as well as £18.75m of convertible loan notes and a further £1.1m trade loan.
Unless accountants KPMG can find a buyer, JJB Sports looks set for administration - where its assets will be carved up and auctioned off.