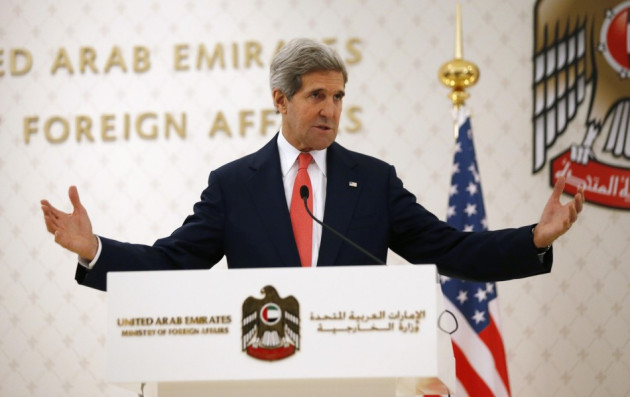 Western powers have agreed on a nuclear deal to offer to Iran but Tehran is not ready to accept it, US secretary of state John Kerry has said..
"The French signed off on it, we signed off on it," he told reporters in Abu Dhabi. But Iran was not able to accept the deal "at that particular moment".
He added that Washington was "not [in] a race" to finish talks with Iran.
"It was too tough for them. They have to go back home, talk to their government and come back," an unnamed US official said.
Kerry criticised Israeli PM Benjamin Netanyahu, who has strongly opposed any deal with Tehran. Hostility to a nuclear deal was premature, said Kerry.
Netanyahu needed to recognise that no agreement with Iran had been reached, he added.
"The time to oppose [a deal] is when you see what it is," he said.
Iran and the International Atomic Energy Agency - the UN nuclear watchdog - have reached an agreement on a "roadmap for cooperation" to resolve issues around Iran's nuclear programme.
"We had successful negotiations regarding further cooperation between Iran and the [International Atomic Energy] Agency in various fields," said nuclear chief Ali Akbar Salehi at a joint press conference in Tehran.
The roadmap covers inspectors' access to two Iran nuclear sites: the Arak heavy water reactor and the Gchine mine. Restriction of access to nuclear sites has been a stumbling block in negotiations.
The Gchine uranium mine is the domestic source of ore for the reactors.
Iran's cooperation with the IAEA includes "timely information about its nuclear facilities and in regard to the implementation of transparency measures", according to the agency.
Tehran will provide access and information within three months.
Along with access to Gchine mine and the Arak heavy water production plant, Iran will provide information on all new research reactors and on 16 sites designated for the construction of nuclear power plants.