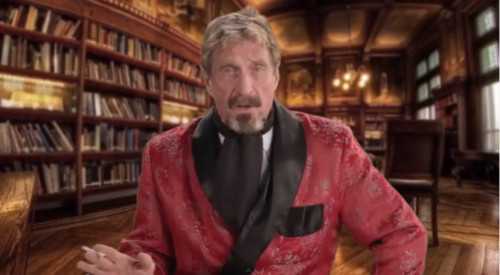 Intel is to drop the McAfee Security brand name from its security software portfolio, rebranding it as "Intel Security", much to the delight of controversial founder John McAfee.
"I am now everlastingly grateful to Intel for freeing me from this terrible association with the worst software on the planet. These are not my words, but the words of millions of irate users. My elation at Intel's decision is beyond words," McAfee told the BBC.
Intel CEO Brian Krzanich broke the news during his keynote address at CES 2014 in Las Vegas, where he also stressed the need to secure mobile devices.
To that end, the current McAfee mobile security software is to be made freely available as an Android and iOS app for smartphones and tablets in the near future.
Intel later confirmed that the iconic red shield from the McAfee logo is to remain, and that the transition to the new Intel Security division will take up to a year to happen.
Android devices that run on Intel mobile processors will also soon have access to the new Intel Device Protection technology, which is meant to make Android more secure and attractive to enterprises dealing with Bring Your Own Device (BYOD) headaches, needing to secure all devices used by employees to access corporate networks.
Intel's decision is unsurprising, since McAfee released a joke video on YouTube in June 2013 featuring glamour models and guns, advising users to uninstall McAfee anti-virus software from their computers by shooting a bullet at their laptops.
In the video, McAfee claims that although he has not been associated with the software for 15 years, he still receives emails from users, complaining about the antivirus blocking websites and asking him how to remove the software for good.
"Something went wrong - 15 years ago I had some beautiful software and they took it over. I don't know what they did," he said in the video.
McAfee founded computer anti-virus company McAfee Associates in 1987 and is known as being the first in the industry to distribute antivirus software using a limited trial "shareware" model. In 1994 for $100m (£61.8m, €73.8m), he sold his stake in the company and moved to Belize in 2009 for tax reasons.
In 2012, he fled Belize when police sought him in connection with the fatal shooting of his neighbour, US expatriate Gregory Viant Faull.
McAfee escaped to Guatemala where he claimed political asylum and was eventually deported to the US. In November 2013, he was accused of stalking a property manager working at his luxury apartment complex.