Finnish smartphone startup Jolla will release its first smartphone on 27 November in Helsinki.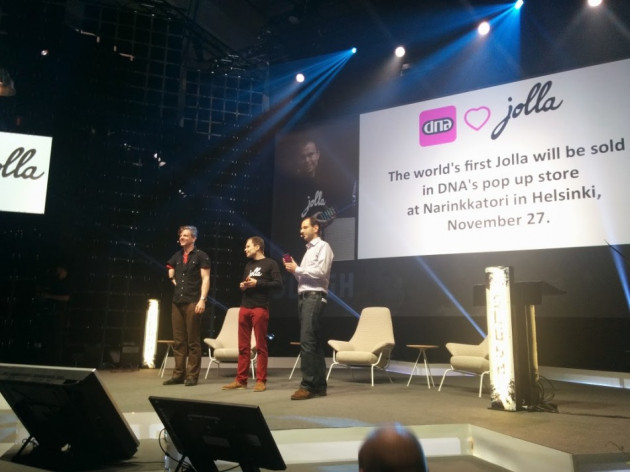 Announced at the Slush startup conference taking place in Helsinki this week, the smartphone will be sold first in a pop-up store created by Finnish mobile phone network DNA.
Marc Dillion, one of the founding members of Jolla revealed the date one year after the company revealed its plans to disrupt the smartphone industry at Slush 2012.
The Jolla smartphone has been created from the ashes of Nokia's failed MeeGo project with Jolla's Sailfish operating system a direct result of that project.
Invites will be sent out to those who preordered the phone first to visit the pop-up store in central Helsinki on 27 November. The company has yet to reveal further plans for when the phone will go on sale generally or outside of Finland.
The company earlier this month announced it had chosen the Russian internet giant Yandex to provide the default Android app store on its devices instead of Google's official Play Store.
Jolla hardware
The Jolla smartphone will feature a 4.5in HD screen, 8 megapixel camera, 4G and a dual-core processor. However the phone's selling point is its ability to be customised using back covers which not only change the colour and look of the device, but could be changed to suit each network on which they are sold, downloading carrier-specific apps to the phone automatically.
Another use for the so-called 'Other Half' would be a way to use a single device for work and personal use. Connect your work Half and the phone could be configured to make your work email and calendar more prominent, hide your games, and mute social network notifications; attach your home Half and this could be set to mute and hide all work apps.
As one of many new mobile operating systems to emerge in the last 12 months, Jolla's Sailfish OS will face an uphill struggle to compete in the smartphone world, not only with established players like Android, iOS, Windows Phone and BlackBerry but also a host of emerging mobile operating systems such as Samsung's Tizen, Mozilla's Firefox OS and Canonical's Ubuntu.