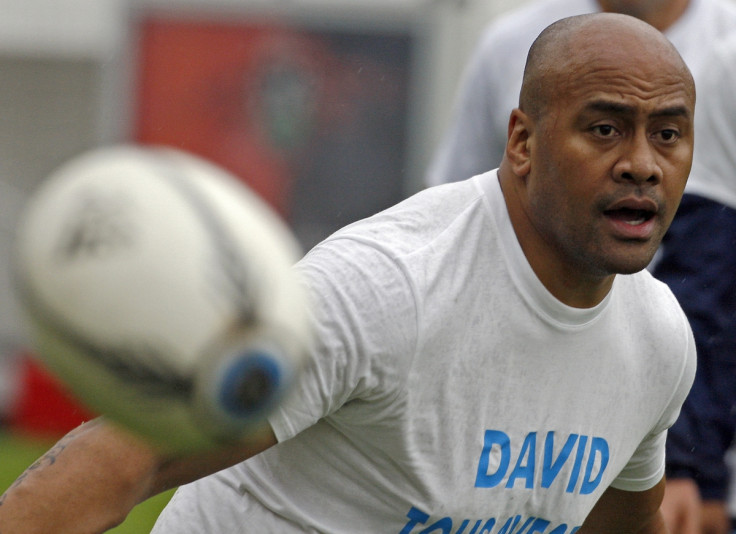 New Zealand's rugby union legend Jonah Lomu has died at the age of 40 on Wednesday (18 November) in Auckland. He leaves behind his wife Nadene and two sons, Brayley and Dhyreille.
Lomu was diagnosed with a serious rare kidney condition nephrotic syndrome while playing for New Zealand. It forced him to give up the game. He had a kidney transplant in 2004 but the kidney stopped functioning in 2011.
The International Rugby Hall of Fame inductee pulled on the All Blacks jersey between 1994 and 2002. While playing for New Zealand, he played 63 tests, scoring 37 international tries and is often touted as one of the most destructive wingers in the history of the sport.
He made his Test debut in 1994 against France in Christchurch. In addition to playing for several local teams in New Zealand, Lomu made 10 appearances for Cardiff Blues in Wales between 2005 and 2006, shortly before retiring from the sport.
In an interview with Daily Mail in August, Lomu said that he was on dialysis and was hoping for a second kidney transplant. All Blacks doctor John Mayhew told New Zealand television that Lomu's death was "totally unexpected."
In his last tweet on 15 November, Lomu posted pictures of the dancing fountains at the Dubai mall and thanked his host for a lovely time. He had even commented on the Paris terror attacks last Friday (13 November) saying: "Waking up today was hoping that it was a bad dream but no. To Paris France our prayers and hearts go out to you ... "
"On behalf of the Lomu family, I can confirm that Jonah Lomu died this morning, probably about 8 or 9 this morning," he told the TV station. He said Lomu's family was "devastated" and asked for privacy.
Lomu had only just arrived back in New Zealand on Tuesday (17 November) after attending the Rugby World Cup with his family. New Zealand Rugby chief executive Steve Tew said: "Jonah was a legend of our game and loved by his many fans here and around the world. We're lost for words and our heartfelt sympathies go out to Jonah's family."
New Zealand Prime Minister John Key said: "The thoughts of the entire country are with his family." There have been further outpouring of shock and condolences to the family. Johnny Wilkinson described Lomu as the greatest superstar and a fabulous human being.