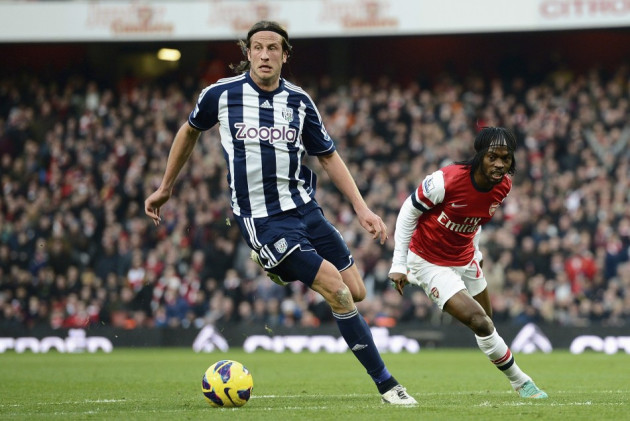 West Bromwich Albion defender Jonas Olsson has opened the door to a move to Arsenal by suggesting he would like to ply his trade in London at some stage in his career.
The Swedish international has been heavily linked with a move to the Gunners during the last 12 months while The Baggies rejected a bid from Queens Park Rangers in the last January transfer window.
Olsson has been an ever-present for a West Brom side who in the Premier League have taken nine points from their opening seven games, a start which has included a win over Manchester United and most recently a draw with Arsenal.
But Olsson, who signed a four-year deal last September, is in no mood to disrupt West Brom's good start to the campaign by leaving the club anytime soon, even if a switch to the capital is attractive.
"I don't want to comment further on rumours. In the window there is always a link to this and that. Sometimes it is true, sometimes you don't hear any more, sometimes it is close, sometimes it is not," Olsson told the Daily Mirror.
"Either way it is gone - I signed a contract last autumn and I would not have agreed a four-year deal if I was not happy. I focus on where I am and my obligation to do my very best.
"I like London, one day I would like to live there and play football but I am very happy here and if I were to leave this club, it would be for something really good."
Olsson proved influential in West Brom grabbing a point and ending Arsenal's 10-match winning run at the Hawthorns on Sunday.
Claudio Yacob gave the hosts a half-time lead before Jack Wilshere hammered home a second half equaliser. Despite late Arsenal pressure West Brom held firm to give manager Steve Clarke reason to be encouraged after a start to the campaign which produced three successive defeats.
"We started slowly this year," he told Sky Sports. "The last four games have been much better, we played to a good level.
"We gave as good as we got (today) and we stood toe to toe with one of the better teams in the division and for us that's a big thing to take into the rest of the season."