Former Ultimate Fighting Championship (UFC) featherweight champion Jose Aldo has got into serious feuds with Conor McGregor in the Octagon, one of which culminated in him losing to the Irishman in just 13 seconds at UFC 194.
Nonetheless, the Brazilian Mixed Martial Arts (MMA) fighter has revealed that he understands why McGregor does some of the things to promote his fights on camera and confirmed that that they share a "friendly relationship".
"It's a friendly relationship. I don't have a problem with him trying to promote himself. If we take a look at it money-wise, it was pretty good. I think there should be more fighters like him at featherweight. I'm not his friend though. He can go his way and I can go mine," Aldo said, as quoted by SB Nation.
The Irishman had famously snatched the featherweight belt from Aldo during a press conference last year prior to their fight. That was not the only stunt that McGregor pulled off during the build up to the fight. The 28-year-old repeatedly taunted Aldo during media interactions, and also said that he is Aldo's daddy inside of the Octagon.
However, the 30-year-old said that such behaviour shown by McGregor is only for the cameras and that he is a different person altogether when the media spotlight is off him.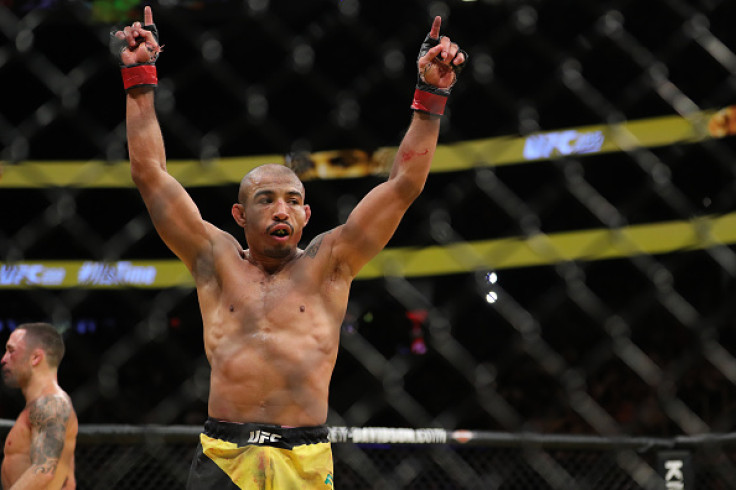 "He's a regular, mellow guy, but if he sees a camera or some Irish people, he transforms in such a way that makes you say to yourself 'son of a b****. One day we were hanging out and he said he was going to get the coffee and I said I wanted mine with sugar and he said something like 'nice'. Most of the times we met, there was always someone recording us, so he had to keep his persona up. With no cameras he changes completely," the MMA fighter added.
The Irishman is currently basking in the spotlight after beating American Nate Diaz in their rematch at UFC 202, which was held at the T-Mobile Arena in Las Vegas on 20 August.