American Mixed Martial Arts (MMA) fighter Nate Diaz has said that he had faced a number of injuries in the lead up to Ultimate Fighting Championship (UFC) 202 event, which may have hindered him and affected his performance during his loss to Conor McGregor on 20 August.
Diaz had played down the injuries before his clash, but his coach Richard Perez has now revealed that the injuries sustained by the 32-year-old were very serious and that things got really bad in the lead up to the fight.
Perez confirmed that the American suffered a knee injury at the start of the training camp, which led to a rib injury that kept from training for several weeks before his fight against McGregor.
"They were bad. The knee was bad and the ribs were bad because when he hurt his knee he couldn't run. So then when it got a little better, he wanted to start sparring. And he is not in shape because he wasn't really doing much. And then when he got [Alan] Sanchez in there who caught him in the rib and then put him out there for a while," Perez said, as quoted by MMAFighting.
McGegor won the event at the T-Mobile Arena by a majority decision. However, there are a number of people who expressed disappointment over the judges' decision, with Rafael Dos Anjos recently claiming that it was Diaz who should have been declared the winner. Perez agreed and said that Diaz was the clear winner.
"I thought he [Diaz] won rounds three, four and five. But I went back home and watched it again and I thought he beat him, because you can't win a round by running. And sure, McGregor threw a lot of kicks in the first round. Second round was pretty close, I gave it to McGregor. But three, four and five? No.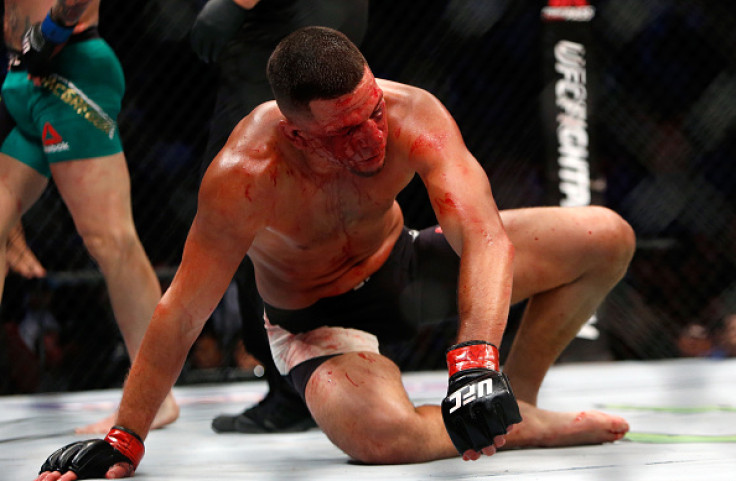 "I feel that Nathan won, but I knew they were going to give it to McGregor. But I felt that McGregor didn't win that fight. A lot of people know that. But I felt they did give it to him so they could have a third fight. The judges were going for McGregor. I mean, you could tell. It's obvious. And I figured okay, they want a third fight," Diaz's coach added.
However, since then president of the UFC, Dana White has confirmed that a third fight will not be happening any time soon, but has refused to rule out the trilogy clash taking place in the near future.