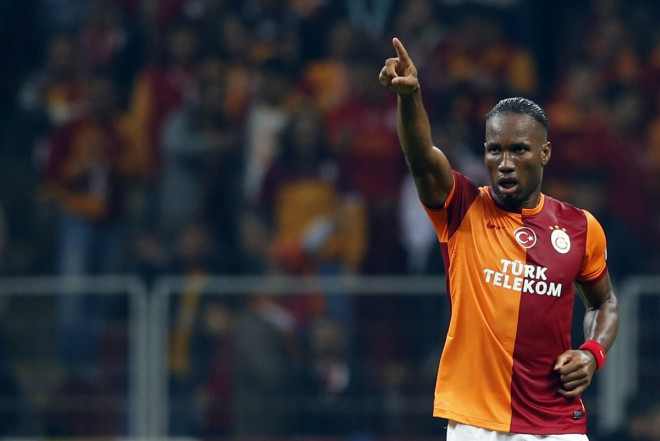 Jose Mourinho thinks Didier Drogba still has a role to play at Chelsea in the future while heaping praise on the striker's contribution to the west London club in the past.
The Ivory Coast international spent eight seasons at Stamford Bridge and was vital in helping them win their first Champions League trophy in 2012.
Not only did Drogba score the decisive penalty in the shootout against Bayern Munich in the final, he also headed the equaliser in regulation time.
Since leaving the Blues in the aftermath of European glory, Drogba is now plying his trade with Galatasaray. Mourinho also reveals that he still considers the Ivorian as one of the most potent strikers in world football.
However, the 36-year-old will be part of the visitors' dressing room when the Turkish champions travel to Stamford Bridge for the last-16 second leg tie in the Champions League on Tuesday evening.
"He is undoubtedly one of the most important players in the history of the club. All Chelsea supporters, we agree with that. I think it has to happen one day. When, I don't know. As a player, as a coach, as an ambassador, next year, in four, five years, in 10 years, I don't know," Mourinho explained.
"But when a person represents so much to a club and when a club represents so much to a person, and that's the case, I think he has to be back one day. Is he the same player at 36 years old as he was at 26? Nobody is, but he is certainly still one of the best strikers in the world," the Chelsea manager added.
Apart from victory in Europe, Drogba has also won three Premier League titles, four FA Cups, two League Cups and two Community Shields since joining Chelsea from Marseille in the summer of 2004.
Despite the desire to knockout his former club from European competition, the Ivorian reveals that he will not celebrate even if his current employers emerge triumphant due to his sheer admiration for Chelsea.
"With all the respect that I have for this club, for the fans and for the players, I might not celebrate, but if we win I'll be happy. I come here with another team. I just want to win the game, I just want to qualify. There's nothing personal against Chelsea, there will never be," Drogba said.