Jose Mourinho has encouraged Anthony Martial to emulate Marcus Rashford's approach when it comes to the battle for relevancy at Manchester United. The French forward has endured a difficult second season at Old Trafford amid questions over his mentality and was a notable omission from the matchday squad for Sunday's (16 April) dominant victory over Premier League leaders Chelsea.
Rashford started that 2-0 win following the decision to rest top scorer Zlatan Ibrahimovic for a game sandwiched between two Europa League quarter-final ties against Anderlecht, and made a strong case for further opportunities during a scintillating performance that included a goal after just seven minutes. The 19-year-old academy graduate also came off the bench to net at Sunderland last week and has now scored in back-to-back top-flight matches for the first time since September 2016.
"We are together for almost 10 months or something like that," Mourinho was quoted as saying by the Manchester Evening News when quizzed regarding Martial's progress during a press conference held in advance of that second-leg decider against Anderlecht.
"I know the players much better now. The players should know me much better now. In the same way I know what the players like, they also know what I like and I have to go in the direction of the players and they have to come in my direction.
"That's the point. That's why Marcus Rashford even without scoring goals, and not in the Premier League since September, he was always a player that I trust and I play and support because he was always coming in my direction and what I want from a Manchester United player.
"It's about that. it's about knowing each other better. Do I think Anthony is player with great ability? Yes. Do I think he can play successfully for me? Yes. But he needs to give me things that I like."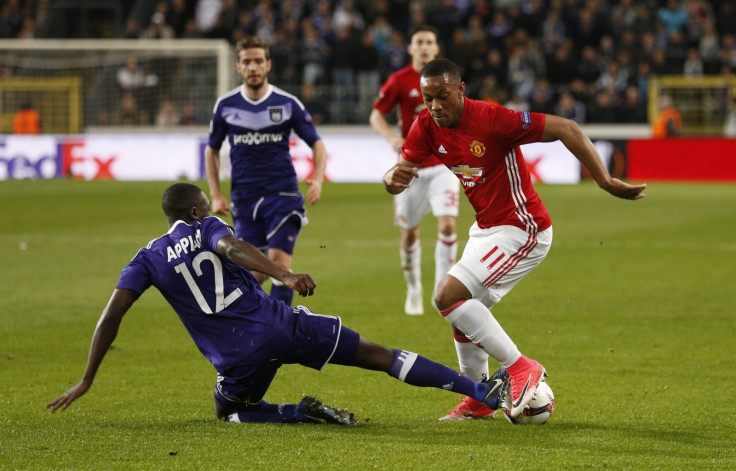 Zlatan Ibrahimovic future
Ibrahimovic's future continues to be subject to speculation with his initial one-year contract due to expire in the summer and a further 12-month extension yet to be confirmed amid reported interest from China and Major League Soccer (MLS) outfit LA Galaxy. Breaching that particular subject again, Mourinho insisted he really does not know if his decision is predicated upon United, currently fifth in the Premier League and four points behind Manchester City with a game in hand and a derby still to come, returning to the Champions League.
Asked if a potential Europa League final date at Stockholm's Friends Arena was ideal for the evergreen Swede, he said: "I don't think about it, I just think about Manchester United. I think it would be the perfect finale for us. It would be the perfect end to the season for us, a difficult season with lots of matches. I think for Zlatan it would be fantastic to play the final in his country, it would be perfect, it would be beautiful – no more than that."
Clarifying the criticism of United's profligate attacking display in Brussels previously, he added: "I was not disappointed with Zlatan, I was disappointed with the team. The team had the game in their hands and did not kill the game. We could be speaking now about a friendly game tomorrow if we won 3-0 in Anderlecht. Tomorrow could be a nice game, and the chance to play Axel Tuanzebe, and some of the other young ones without any kind of pressure. The game was easy to cure, and we did not."